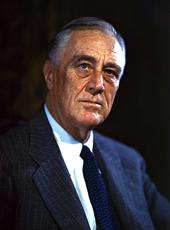 Excerpts from the Press Conference
THE PRESIDENT: I think the only news at the present moment is an order which I signed this morning to see if we could correct a very difficult situation in regard to the purchases of various articles by the Government. You know, we have been getting a series of identical bids on the plea from the bidders that they are precluded from putting in competitive bids by their filed prices with their respective Code Authorities. We are going to try something new to see if we can break that down.
The Executive Order provides—you can get a copy of it after the press conference so that you can see what it says-that any bidder for a Government contract of the United States or a State or municipality or other public authority, in other words, any kind of Government contract for goods on which the bidder has filed prices with his Code Authority, these bids from now on will be held to have complied with the Code requirements on two conditions: First, if the bidder quotes a price to the Government agencies not more than 15 percent below his filed price and, second, if he does quote a lower price than the filed price, he shall file that lower price with the Code Authority.
In other words, he gives the public the advantage of the same reduction that he offers to the Government.
The second part of it is that if any other member of the Code believes that this lower bid is made possible only by unfair practices, he has the right to complain to the Administrator of Industrial Recovery who shall thereupon make a finding as to whether the complaint is justified or not.
We hope by this means to restore competition on Government bids and, incidentally as a result of that, in a very large line of actual prices to private consumers, and at the same time we hope to prevent unfair trade practices.
Q. In other words, Mr. President, if they bid on a Government contract now they do not have to file their prices with the Code Authority?
THE PRESIDENT: Actually at the present time they all bid the same price with the Government on the excuse that that is the price they have filed with the Code Authority. . . .
Franklin D. Roosevelt, Excerpts from the Press Conference Online by Gerhard Peters and John T. Woolley, The American Presidency Project https://www.presidency.ucsb.edu/node/208456