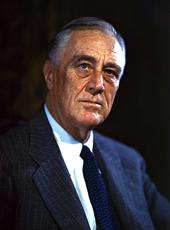 Excerpts from the Press Conference
Q. Is there anything you want to say further on this Ethiopian situation, that is, the cancellation of the oil leases?
THE PRESIDENT: No, I think it has got pretty full stories from Washington.
Q. It was a good piece of diplomacy.
THE PRESIDENT: A good job. Of course you can—if I were writing the story, I would put it this way: That by no stretch of the imagination has the President or the Secretary of State ever been the least bit concerned over the possibility of this oil lease involving the United States, in any, shape, manner or form in the Ethiopian or Italian problems. Nobody who knows the Administration policies could think for a minute that there could be involvement. The only danger lay in the effect of the oil lease on the negotiations between European powers and Ethiopia that are now going on in Geneva. And of course the result yesterday of the withdrawal from the concession has been a fine thing because it has cleared the air of those conferences. And then, if I were going to write one more paragraph, I would put it this way: "that this is another proof that since March 4, 1933, dollar diplomacy is not recognized by the American Government." (Laughter)
Q. May we quote that?
THE PRESIDENT: I think you could quote that.
MR. EARLY: Just that one sentence.
THE PRESIDENT: Since the 4th of March, 1933, dollar diplomacy is no longer recognized by the United States Government.
Q. Are you sure that this was dollar diplomacy and that there were no other currencies involved? (Laughter)
THE PRESIDENT: Off the record, I would say that that would depend on the rate of exchange.
Q. Would you be willing to answer the question that neither is the pound sterling diplomacy going to be recognized? (The President did not answer) (Laughter)
Franklin D. Roosevelt, Excerpts from the Press Conference Online by Gerhard Peters and John T. Woolley, The American Presidency Project https://www.presidency.ucsb.edu/node/209075