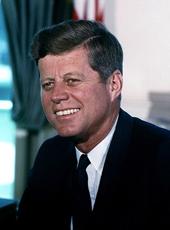 Excerpts from Remarks by Senator John F. Kennedy, Reading, PA - (Advance Release Text)
The Republican Party contains many good Americans. But they can't reform their party. Theodore Roosevelt, your own Gifford Pinchot, Wendell Willkie, and now Nelson Rockefeller have tried - but they can't do it; it's the same old stand-pat, do-nothing, stick-in-the-mud party.
It fought Woodrow Wilson's New Freedom. It fought Franklin Roosevelt's New Deal. It fought Harry Truman's Fair Deal. And it's afraid of the challenge of the New Frontier
The dimensions of the New Frontier are vast - problems Franklin Roosevelt and Harry Truman never had to face.
The cold war has moved to outer space and next week it moves into the United Nations in New York City.
It has spread to Cuba and the Congo, to India and Indonesia.
Around the world a storm is rising and you can't stand pat in the eye of a hurricane.
Here at home, too, our problems have multiplied hugely.
Our population is exploding - where there were 132 million Americans in 1940, there are 180 million today; and there will be over 230 million in 1975.
Our cities and suburbs are becoming even more crowded.
We have 130,000 fewer schoolrooms than we need - our children are not being properly educated.
And we have 16 million people over 65; our older citizens are not being cared for properly either.
The advances of medical science have prolonged life greatly. But the scientists have not told us what to do to relieve the miseries and burdens of old age.
Right here in Pennsylvania you have more than a million people over 65 years of age. You have done much to provide for them through your local facilities and your churches. But because the magnitude of this problem is increasing, it has reached a point where Government help is needed - and needed badly.
In the last session of Congress we Democrats tried to enact a bill to provide for decent medical care for our older citizens under social security. It was a moderate bill. We wanted our older citizens to receive help in meeting their staggering medical bills without making them take a pauper's oath. We wanted them to receive that help because they deserved it, because it was a right they had earned, not charity they were being given. And we wanted it to be based soundly on the pay-as-you-go insurance principles of the social security system. For old people do not want a handout: they want insurance, and they will pay for it as they go.
The Republican Party defeated this bill. They supported a wholly inadequate bill requiring a pauper's oath.
The Republican Party was against social security when it was first proposed. It has taken the Republicans more than 20 years to come around to believing in it. If you depend on them you'll have to wait 20 more years to get decent medical care for the aged under social security.
I am glad, Governor Lawrence, that you called a conference on the problems of aging. I am glad that Pennsylvania will take prompt advantage of what benefits exist under the new Federal legislation.
And I can tell all of you that next January a Democratic Congress working with a Democratic administration, will push through a bill providing for adequate - and honorable - medical care for the aged.
Let us, then, declare our program to help our older people help themselves.
First, we must provide them with decent medical care under social security.
Second, we must provide more opportunities for older workers to find useful employment in today's world. Too many of our older people feel the awful loneliness and uselessness of age - and it need not be. And we need their wisdom to guide us.
Third we must improve our hospitals and our medical education.
Fourth, we must provide not only care but rehabilitative services for those who need the shelter of institutions.
Fifth, we must step up our medical research in geriatrics - the problem of aging in all its aspects, including mental health.
We must move ahead in our conquest of disease - its causes, prevention, and treatment.
Seventh, and we must recognize that older people have a right to decent food, clothing, housing; a right to a decent income; a right, earned by a lifetime of useful service, to live out their lives in useful satisfying continued service to their world and to those who love them.
In the richest country in the world, this is not too much to ask - for those who made it rich.
John F. Kennedy, Excerpts from Remarks by Senator John F. Kennedy, Reading, PA - (Advance Release Text) Online by Gerhard Peters and John T. Woolley, The American Presidency Project https://www.presidency.ucsb.edu/node/274735