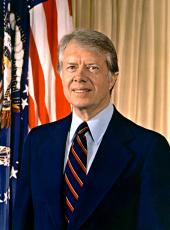 Eradication of Smallpox White House Statement.
President Carter today welcomed the official eradication of smallpox throughout the world, announced by the World Health Organization (WHO) in Nairobi today.
Over more than a decade, the WHO brought together in a sustained battle against smallpox a group of experts, health workers, and political officials from countries throughout the many regions where the disease was endemic. The leader of that WHO effort was Dr. Donald A. Henderson, who was then an officer of the U.S. Public Health Service working with the WHO. Henderson and his successors at the Center for Disease Control were imaginative and dedicated American contributors to this worldwide success.
In addition to eradicating what was long one of the most dread diseases known to mankind, this global campaign has produced financial savings for the United States. We invested an estimated $27 million over the many years that some 300 persons from the Public Health Service filled assignments overseas related to smallpox control, and in direct financial assistance from AID and HEW. Now, routine smallpox vaccination is no longer necessary in this country, and there is no risk of smallpox to American travelers abroad. The $27 million investment is returned every 3 months in savings.
"I am proud of the results of the smallpox eradication program, and I cite this program as a giant step toward the goal of rational planning for good health throughout the world in the future," the President stated.
Jimmy Carter, Eradication of Smallpox White House Statement. Online by Gerhard Peters and John T. Woolley, The American Presidency Project https://www.presidency.ucsb.edu/node/248268