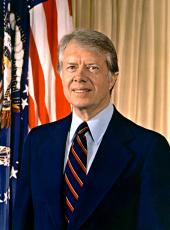 Elmendorf Air Force Base, Alaska Remarks at a Reception.
I really thank you for coming out this afternoon to meet me. I told Bob Strauss that I was going to stop, the first stop on the way to Tokyo, in Alaska to see my friends, and he said, "Well, that won't take long." [Laughter]
I think if anybody in the last 2 1/2 years has thought about Alaska and studied about Alaska, it has been your President. There are two maps in the world with which I have become thoroughly familiar. One is in the Sinai, and I think you know which one the other is. [Laughter]
This is a State of unbelievable beauty, as you know, and it's a State where the conflicts of the world peculiarly are focused.
I go from Washington to Tokyo to meet with the leaders of France, Germany, Italy, Great Britain, Japan, Canada to talk about the most burning issue of our time, and that is energy, development of the quality of life, rapid change, whether or not people can govern themselves in a time of crisis and change that sometimes escapes us, a time of division, a time of argument, a time of debate, a time of soul-searching, a time of patriotism, and in our country, a time of greatness.
I've just come back from concluding an agreement with the Soviet Union. It's not the first wonderful agreement we've worked out with Russia, as you well know. [Laughter] But the times press on us. And I think Alaska, our most beautiful State, is also a State where the youth and the vigor and the dynamism and the strength of our Nation is most vividly demonstrated.
I recognize acutely, being a politician who hungers after the friendship and the approbation of Americans, how deeply disturbed you all have been on one side or the other about the Alaska lands legislation and the frustration that you feel in this relatively remote State from Washington that the decisions are made by those who don't know you well enough and who are too far away to hear your voice clearly.
You're not the first people in this Nation who've felt that way. I come from the South, as you know, and there have been decisions made in Washington with which we had violent disagreement. Once the basic decisions are made, modifications can then be accomplished. We can accommodate one another. The tensions tend to alleviate, and I think the harmony of our Nation can be restored again.
I look forward to coming back to Alaska. The first time I came here was exactly 4 years ago in June of 1975. I'm grateful to have a chance to meet you all personally, and I hope and I pray that when I go to Tokyo to represent our country, that I can make you proud of me and again proud of our country.
Last weekend in Vienna, in our negotiations with the Soviet Union, I negotiated from a position of political strength and military strength. We are the strongest nation on Earth.
This weekend I will be negotiating with the other leaders from a position of economic strength and cohesion, brought about by an allegiance to a nation which is, again, the greatest and the strongest on Earth.
I'm very proud to be President of this country, and I'm very proud to be in a State that inspires us all with your beauty and your dynamism, your confidence and your youth. You're typical of the pioneer spirit of our Nation, and it's an honor for me to be here with you.
And now, if you don't mind, Rosalynn and I would like to meet every one of you personally, if you would come by and let us shake your hand.
God bless you all. Thank you very much.
Note: The President spoke at 1:50 p.m. at the Officers' Club. Following the reception, the President left for Japan.
On his arrival in Tokyo, the President went to the residence of the U.S. Ambassador to Japan, where he stayed during his visit to Japan.
Jimmy Carter, Elmendorf Air Force Base, Alaska Remarks at a Reception. Online by Gerhard Peters and John T. Woolley, The American Presidency Project https://www.presidency.ucsb.edu/node/249166