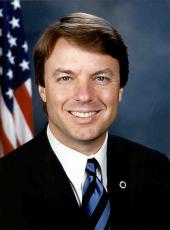 Edwards Statement On The National Intelligence Estimate
Chapel Hill, North Carolina – Senator John Edwards released the following statement about the National Intelligence Estimate that was released today.
"Today's new National Intelligence Estimate demonstrating Al Qaeda is expanding their reach is proof positive that George Bush's "Global War on Terror" Doctrine is more of a bumper sticker than a strategy to eliminate terrorism. This Administration has failed America - 6 years after 9/11, Bin Laden is still alive, Al Qaeda is more powerful now than ever before, and we have fewer allies. As the NIE shows, the next president will need a bold new strategy that will attack the root causes of terrorism, rather than wait for the problem to get worse. We need an anti-terror strategy that tailors our force structure to the threat; puts the military, not politicians, in charge of operational decisions on the ground; and creates a new "Marshall Corps" of 10,000 professionals to stabilize weak and failing states."
John Edwards, Edwards Statement On The National Intelligence Estimate Online by Gerhard Peters and John T. Woolley, The American Presidency Project https://www.presidency.ucsb.edu/node/291564