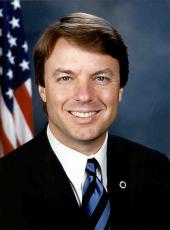 Edwards Statement On The Growing Threat To America's Families Posed By "Unsafe Trade"
Edwards: Fisher-Price Toy Recall Highlights Need for New Steps To Safeguard Children From The Importation Of Unsafe Toys Or Goods
Chapel Hill, North Carolina – In the wake of a flurry of safety recalls of imported toys and other goods, particularly from China, Sen. John Edwards called on leaders in Washington to take immediate steps to reduce the growing risk posed by unsafe trade and ensure the health and welfare of American consumers. This week, for example, Fisher-Price issued a recall over concerns that imported toys, mostly from China, were tainted with levels of lead far above U.S. standards - thereby posing a serious health risk to America's children.
Senator Edwards will unveil new ways steps to protect American families from dangerous imports in his major policy speech this Monday, August 6th, in Cedar Rapids, Iowa.
Today, Edwards released the following statement calling for strengthening the laws that protect America's children and families.
"The recall of Fisher-Price toys highlights the need for smarter, safer trade and consumer protection policies in this country. I've talked about what we have to do to make food safer. Now with nearly 80 percent of children's toys made in China, we need to strengthen our ability to ensure the safety of products designed for our children's hands. We need tougher penalties for safety violations and we need to look at solutions like third-party testing of imported toys. At the same time we need to put the Consumer Product Safety Commission back on the side of consumers—instead of having their travel bought and paid for by the industries they are supposed to regulate."
Recent incidents and reports that highlight the need for smarter, safer policies include:
July 2007: Fisher-Price recalls 967,000 plastic pre-school toys tainted with high levels of lead, made by a Chinese vendor.
June 2007: Approximately 900,000 tubes of Chinese toothpaste containing a poison used in some antifreeze products
June 2007: As many as 450,000 tires made in China were recalled after evidence that they could be subject to tread separation-- a problem that led to the nation's largest tire recall in 2000.
June 2007: The FDA issued an alert challenging imports of farm- raised seafood from China, after testing repeatedly found contamination from carcinogens and antibiotics.
June 2007: 1.5 million "Thomas & Friends" made in China are recalled because of toxic lead surface paint.
May 2007: A Chicago Tribune analysis of all lead recalls in the past 30 years since lead paint was banned in the U.S. finds the vast majority of 133 recalls involved Chinese-manufactured products.
March 2007: An estimated 3,500 pets died after eating pet food contaminated with melamine in China
March 2007: 21,000 Sky Ranger toy airplanes made in China are recalled after at least 45 explode in the vicinity of children.
February 2007: Hasbro recalls 1 million Easy-Bake ovens made in China; 77 children report burns after getting hands or fingers stuck.
John Edwards, Edwards Statement On The Growing Threat To America's Families Posed By "Unsafe Trade" Online by Gerhard Peters and John T. Woolley, The American Presidency Project https://www.presidency.ucsb.edu/node/291560