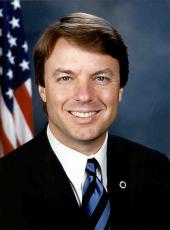 Edwards Statement On President Bush Escalation Plan
Calls on Congress to Block Funds for War Escalation
Senator John Edwards released the following statement today about President Bush's expected announcement tomorrow that he will seek to escalate the number of troops in Iraq.
"George Bush's expected decision to adopt the McCain Doctrine and escalate the war in Iraq is a grave mistake.
"The new Congress must intercede to stop Bush from stubbornly sticking to the same failed course in Iraq and refuse to authorize funding for an escalation of troops. They should make it clear to the President that he will not get any money to put more of our troops in harm's way until he provides a plan to turn responsibility of Iraq over to the Iraqi people and to ultimately leave Iraq. George Bush wants to dig a deeper hole, but we need to climb out.
"The situation in Iraq demands a political solution — the Iraqi people must take responsibility for their country. Escalating the war in Iraq, which our own generals agree won't help, sends the wrong message to the Iraqi people, to the region, and the world. In order to get the Iraqis to take responsibility for their country, we must show them that we are serious about leaving, and the best way to do that is to actually start leaving and immediately withdraw 40–50,000 troops. Once the U.S. starts leaving, the Iraqi people and other regional powers will be forced to step up and engage in the search for a political solution that can bring an end to sectarian violence and allow reconstruction to take hold, creating — as should have been done long ago — Iraqi jobs for Iraqis."
John Edwards, Edwards Statement On President Bush Escalation Plan Online by Gerhard Peters and John T. Woolley, The American Presidency Project https://www.presidency.ucsb.edu/node/291514