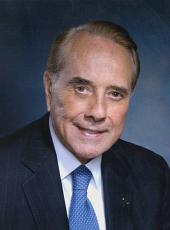 Dole Campaign Press Release - Utah Governor Backs Dole Campaign
Utah Governor Michael Leavitt today announced his support for Senate Majority Leader Bob Dole's bid for the presidency at a Salt Lake City news conference. Dole and Leavitt were joined at the event by Utah Senator Robert Bennett, another Dole supporter. Leavitt becomes the 21st of nation's 31 Republican Governors to endorse the GOP frontrunner.
"Let me give you three critical reasons to vote for Bob Dole," said Leavitt in announcing his endorsement. "A balanced budget. Welfare reform. Tax cuts. Last year, Bob Dole led the Senate in passing all three of those historic conservative reforms, but Bill Clinton vetoed them all when they reached his desk. It's time to elect a President who will sign welfare reform, pass a balanced budget, and fight for tax relief for America's working families. It's time to elect Bob Dole."
"The reason Republicans in Washington have fought so hard to return power to the states is the leadership of forward-thinking Governors like Michael Leavitt," said Dole. "I know he shares my belief that when you rein in the federal government, you free the spirit of the American people to grow and thrive. I'm confident that, with his support, we will win Utah on the way to the Republican nomination."
Leavitt has been Governor of Utah since January 1993 and has led the state in an era of unprecedented economic prosperity. He is the immediate past Chair of the Republican Governors' Association and the president of the Council of State Governments. He also sits on the executive committee of the National Governors' Association and the Republican Governors' Association.
The most recent national surveys show Dole leading the Republican field by a huge margin and as the only Republican candidate with the support to beat President Clinton. The latest CNN/USA Today poll shows Dole leading the Republican field with 49% of the vote -- 38 percentage points ahead of his nearest rival. The same survey showed Dole beating Clinton in a head-to-head matchup by 49% to 46%.
Utah is considered one of the most Republican states in the country -- "the most Republican from 1976 to 1988," according to the Almanac of American Politics. The Utah caucuses will take place on March 25th. Utah Republicans will send 28 delegates to the Republican convention next fall.
Robert Dole, Dole Campaign Press Release - Utah Governor Backs Dole Campaign Online by Gerhard Peters and John T. Woolley, The American Presidency Project https://www.presidency.ucsb.edu/node/315645