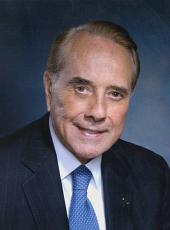 Dole Campaign Press Release - Senator Hatfield Backs Dole
The Dole for President campaign today announced that Oregon Senator Mark Hatfield had endorsed Senate Majority Leader Bob Dole's bid for the Presidency. Hatfield announced his endorsement at a news event in Portland with Elizabeth Dole and Dole Oregon State Chairman Greg Walden. Dole took part in the event via conference call from Iowa.
"I have served with Bob Dole in the Senate for a long time, and I've had ample opportunity to take the measure of the man," said Hatfield in announcing his endorsement. "And while Bob Dole and I have not agreed on every issue, I have never doubted his courage, his intelligence, and his strong moral character."
"As a colleague and a friend, I'm glad to have Mark Hatfield on our team," responded Dole. "I know he shares my belief that we must rein in the federal government in order to set free the spirit of the American people. I also know his support -- along with the rest of our outstanding Oregon campaign team -- will prove instrumental in winning the Oregon primary next March."
With Hatfield's endorsement, Dole has secured the support of most of Oregon's Republican political leaders. Other Oregon backers include former Governor Vic Atiyeh, U.S. Congressmen Wes Cooley and Jim Bunn, former U.S. Congressmen Denny Smith and Bob Smith, Oregon State Senate President Gordon Smith, Speaker of the Oregon House Bev Clarno, Oregon State Senate Majority Leader Brady Adams, State Senator Greg Walden, Speaker Pro Tem Bill Markham, House Majority Leader Lynn Lundquist, Former Air Force Chief of Staff Merrill McPeak, former GOP State Chairman Craig Berkman, Oregon Bankers Association Executive Director Frank Brawner, former member of the Bush administration Jim Fitzhenry, Superintendent of Public Instruction Norma Paulus, Marion County Commissioner Randy Franke, and more than a dozen other state legislators.
Mark Hatfield began his political career in the Oregon Legislature in 1950. After two years in the Oregon House of Representatives and two years in the Oregon Senate, he became the youngest Secretary of State in Oregon history at age 34. He was elected Governor of Oregon in 1958 and elected to the U.S. Senate in 1966. Hatfield has never lost an election.
The Oregon primary will be held on Super Tuesday, March 12th. Oregon will send 23 delegates to the Republican convention in San Diego in August. In the most recent CBS/New York Times survey, Dole held a 6 to 1 lead over his nearest Republican challenger -- a 38 percentage point advantage.
The full list of Oregon Republican Congressional and State Legislators backing Dole so far follows:
Congressman Wes Cooley
Senate President Gordon Smith
Senate Majority Leader Brady Adams
Senator Neil Bryant
Senator Gene Derfler
Senator Jeannette Hamby
Senator Tom Hartung
Senator Bill Kennemer
Senator Shirley Stull
Senator Eugene Timms
Senator Greg Walden
Congressman Jim Bunn
House Speaker Beverly Clarno
House Speaker Pro Tem Bill Markham
House Majority Leader Lynn Lundquist
House Member Eldon Johnson
House Member Denny Jones
House Member Charles Starr
House Member John Watt
House Member John Minnis
House Member Larry Wells
House Member Veral Tarno
House Member Bob Montgomery
House Member Ray Baum
House Member John Schoon
Robert Dole, Dole Campaign Press Release - Senator Hatfield Backs Dole Online by Gerhard Peters and John T. Woolley, The American Presidency Project https://www.presidency.ucsb.edu/node/315666