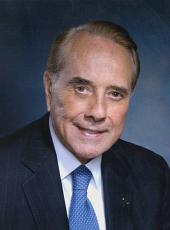 Dole Campaign Press Release - Questions Forbes Farm Policy
Third District Congressman Jim Ross Lightfoot questioned the farm policy of presidential candidate Steve Forbes calling it a "prescription for disaster for family farms and rural communities."
"By his own admission, Steve Forbes views on agriculture will get him run out of town. Farming is the lifeblood of this state and Forbes' flat tax and other policies will be devastating to rural Iowa and rural Americans," Lightfoot said. "Forbes has been silent on the issue of ethanol. I think Iowans can only assume that be doesn't burn ethanol in his fourteen-million dollar yacht."
The Forbes Flat Tax Plan would not allow farmers to deduct the cost of the borrowing they need to expand and run their farms. Young farmers, who incur more debt, would be hurt most by a flat-tax system and the future of family farms would be in jeopardy.
In addition, Forbes has consistently advocated higher gas taxes, which has a negative impact on rural areas. In a 1980 editorial in Forbes magazine, Forbes proposed either a $ 1.50 per gallon gas tax or a 10% value-added tax.
Lightfoot added, "Steve Forbes' plan is to cut taxes for his fellow millionaires while taking the American Dream away from hard- working family farmers by increasing their taxes and taking away their markets. I can see why he thinks Iowans will run him out of town."
"Iowans can't afford another President who doesn't understand agriculture. Bob Dole's roots are in a Kansas farm town and his record in Congress reflect that. He has consistently fought for ethanol, increasing exports, and protecting the family farm. American farmers need Bob Dole.
Robert Dole, Dole Campaign Press Release - Questions Forbes Farm Policy Online by Gerhard Peters and John T. Woolley, The American Presidency Project https://www.presidency.ucsb.edu/node/315613