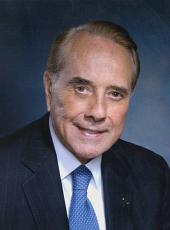 Dole Campaign Press Release - Dole Organizes Largest Compaign Event With Gop Governors in Iowa History
The Dole for President campaign today held the largest campaign event with sitting Governors in Iowa history -- bringing nine current Republican Governors into the state to campaign for Senate Majority Leader Bob Dole. The Governors included: Iowa Governor Terry Branstad, New Hampshire Governor Steve Merrill, Mississippi Governor Kirk Fordice, Kansas Governor Bill Graves, Illinois Governor Jim Edgar, Ohio Governor George Voinovich, Wisconsin Governor Tommy Thompson, Minnesota Governor Arne Carlson, and North Dakota Governor Ed Schafer. They were joined by Arkansas Lieutenant Governor Mike Huckabee and former Iowa Governors Bob Ray and Norm Erbe.
"There is only one candidate who could bring this high-powered group of political leaders together, and that person is Bob Dole," said Iowa Governor Terry Branstad. "We're all proud to be on the campaign team of the man who will be the next President of the United States." Added Governor Ray: "Bob Dole is the only Republican with the experience and the vision to beat Bill Clinton in November and take back the White House. Working together we will return a common- sense conservative leader to the White House."
"There are many reasons I'm glad that this outstanding group of elected officials has taken time from their schedules to campaign with me today," said Dole. "But the thing I'm most proud of is that this group of leaders believes in the same things as I do. They think that the federal government has grown too large, too bureaucratic, and too intrusive. They have fought with me to return power to the states and the people -- where it belongs. And they know how critical it is to maintain our world leadership in agriculture. I can think of no better group of friends and supporters to take our message of positive conservative change to the people of Iowa."
The Governors and other elected officials gathered together for a midday rally with the GOP frontrunner in Des Moines. Following the rally, the Governors and other political leaders spread out over the state to hold rallies and caucus training sessions in 16 other Iowa cities.
So far, Dole has secured the endorsements of 20 of the nation's 31 Republican Governors. No other candidate has been backed by more than two Governors. The most recent Iowa survey shows Dole with a huge lead over his Republican rivals. In a survey conducted by the Des Moines Register, Dole received 41% of the vote, 29 percentage points ahead of his nearest GOP rival.
Authorized and Paid for by Dole for President, Inc.,
Robert E. Lighthizer, Treasurer
810 First Street, NE, Suite 300
Washington, D.C 20002
(202) 414-6400
Robert Dole, Dole Campaign Press Release - Dole Organizes Largest Compaign Event With Gop Governors in Iowa History Online by Gerhard Peters and John T. Woolley, The American Presidency Project https://www.presidency.ucsb.edu/node/315668