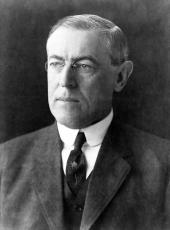 Dinner Remarks and Toast at the Quirinal Palace in Rome, Italy
Your Majesty:
I have been very much touched by the generous terms of the address which you have just read. I feel it would be difficult for me to make a worthy reply, and yet if I could speak simply the things that are in my heart I am sure they would constitute an adequate reply.
I had occasion at the Parliament this afternoon to speak of the strong sympathy that had sprung up between the United States and Italy during the terrible years of the war, but perhaps here I could speak more intimately and say how sincerely the people of the United States have admired your own course and your own constant association with the armies of Italy, and the gracious and generous and serving association of Her Majesty the Queen.
It has been a matter of pride with us that so many men of Italian origin were in our own armies and associated with their brethren of Italy itself in the great enterprise of freedom. These are no small matters, and they complete that process of welding together of the sympathies of nations which has been going on so long between our peoples. The Italians in the United States have excited a particular degree of admiration. They, I believe, are the only people of a given nationality who have been careful to organize themselves to see that their compatriots coming to America were from month to month and year to year guided to the places of the industries most suitable to their previous habits. No other nationality has taken such pains as that, and in serving their fellow countrymen the}7' have served the United States, because these people have found places where they would be most useful and would most immediately earn their own living, and they have thereby added to the prosperity of the country itself. In every way we have been happy in our association at home and abroad with the people of this great State.
I was saying playfully to Mr. Orlando and Baron Sonnino this afternoon that in trying to put the peoples of the world under their proper sovereignties we would not be willing to part with the Italians in the United States. We would not be willing, unless they desired it, that you should resume possession of them, because we too much value the contribution that they have made, not only to the industry of the United States but to its thought and to many elements of its life. This is, therefore, a very welcome occasion upon which to express a feeling that goes very deep. I was touched the other day to have an Italian, a very plain man, say to me that we had helped to feed Italy during the war, and it went to my heart, because we had been able to do so little. It was necessary for us to use our tonnage so exclusively for the handling of troops and of the supplies that had to follow them from the United States that we could not do half as much as it was our desire to do, to supply grain to this country, or coal, or any of the supplies which it so much needed during the progress of the war. And knowing as we did in this indirect way the needs of the country, you will not wonder that we were moved by its steadfastness. My heart goes out to the little poor families all over this great kingdom who stood the brunt and the strain of the war and gave their men gladly to make other men free and other women and children free. Those are the people, and many like them, to whom after all we owe the glory of this great achievement, and I want to join with you, for I am sure I am joining with you, in expressing my profound sympathy not only, but my very profound admiration as well.
It is my privilege and honor to propose the health of His Majesty the King and of Her Majesty the Queen, and long prosperity to Italy
APP Notes: The President addressed his remarks to King Victor Emmanuel III and Queen Helena; He made reference to Prime Minister Vittorio Emanuele Orlando and Baron Sidney Costantio Sonnino, Minister of Foreign Affairs.
Woodrow Wilson, Dinner Remarks and Toast at the Quirinal Palace in Rome, Italy Online by Gerhard Peters and John T. Woolley, The American Presidency Project https://www.presidency.ucsb.edu/node/317578