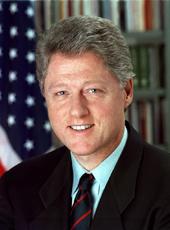 Digest of Other White House Announcements
The following list includes the President's public schedule and other items of general interest announced by the Office of the Press Secretary and not included elsewhere in this issue.
November 8
The President announced his intention to nominate David M. Mason to serve as a Commissioner on the Federal Election Commission.
November 11
In the morning, the President traveled to Arlington, VA. He returned to Washington, DC, in the afternoon.
November 12
In an afternoon ceremony in the Oval Office, the President received diplomatic credentials from the following Ambassadors: Hersey Kyota of Palau; Stasys Sakalauskas of Lithuania; Joris Michael Vos of The Netherlands; Warnasena Rasaputram of Sri Lanka; Noureddine Mejdoub of Tunisia; Dimitrij Rupel of Slovenia; Jesus Reyes-Heroles of Mexico; Christopher Meyer of the United Kingdom; Ahmed Djabir of Comoros; and Koby Arthur Koomson of Ghana.
The President announced his intention to appoint Vera C. Rubin as Chair, and Alfred Y. Cho, Arthur M. Jaffe, and Mario J. Molina as members of the President's Committee on the National Medal of Science.
The White House announced that the President will meet with President Nursultan Nazarbayev of Kazakstan at the White House on November 18.
November 13
In the evening, the President held a reception in the State Dining Room for House Democrats who supported him on fast-track trade legislation. Later, he hosted a private dinner for President Ernesto Zedillo of Mexico in the Residence.
The White House announced that the President and Hillary Clinton will spend the Thanksgiving Day holiday at Camp David, MD.
November 14
In the late afternoon, the President traveled to Las Vegas, NV, arriving in the evening.
William J. Clinton, Digest of Other White House Announcements Online by Gerhard Peters and John T. Woolley, The American Presidency Project https://www.presidency.ucsb.edu/node/223381