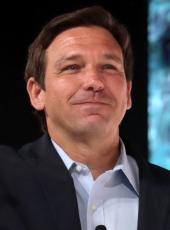 DeSantis Campaign Press Release - What They Are Saying: Ron DeSantis Wins the Day in Iowa
"Pure Fire." "Policy rich." "Fantastic." "Future of the GOP." "Absolutely rocked it."
TALLAHASSEE, Fla. — Ron DeSantis' work ethic was on full display after a busy and energetic swing through Iowa, which was noted by supporters, eventgoers, influential conservatives, and members of the media.
From his breakneck pace of events on a bus tour filled with interviews and media availabilities to his energetic speech at the Iowa GOP's Lincoln Dinner to staying late at his reception to have beers with the large number of supporters who came out to see him, the governor outworked the entire field in the Hawkeye State yesterday.
Another notable moment from the evening came when New Hampshire Governor Chris Sununu stopped by DeSantis' reception for a brief chat following the governors' speech. DeSantis will be back in the Granite State on Sunday and will unveil his "Declaration of Economic Independence" economic policy there on Monday.
"The time for excuses is over. We must get the job done. I will get the job done… We're doing all 99 counties in Iowa because this caucus demands that you earn it," DeSantis said in his speech at the Iowa GOP's Lincoln Dinner last night. Watch his full speech here.
Multiple Iowa legislators praised DeSantis' speech.
Iowa State Senator Jeff Reichman: "Last night's speech and the overwhelming standing ovation showed Iowans the man that will rise to the top. We spent four years of the Trump administration mired in investigations and impeachment trials, the last three years of Biden, with coverups and destroying the integrity of the agencies sworn to guard America. Not only will Gov. DeSantis carry on the policies that will bring back the America I swore an oath to defend, but DeSantis will restore dignity to the office."
Iowa State Representative Bill Gustoff: "The Lincoln Dinner showed that Republicans have a deep bench of great candidates for President in 2024 compared to the train wreck offered by Democrats. Iowans will have a difficult choice for caucusing, but Governor DeSantis knocked it out of the park in his short speech packed with a long list of plans to put the country back on track, complete with a record of accomplishment to show why he's the one to get the job done."
Iowa State Representative Dan Gehlbach: "Ron DeSantis had an awesome, energetic speech last night that offered a positive vision for the future. He's ready to get to work on Day One with specific plans for our country. DeSantis took the time to talk to every single person in the room after his speech at the Iowa GOP Dinner, far more than any other candidate I saw."
More of What They Are Saying:
Sergeant Bluff, Iowa activist Nicole Cleveland: "I was most impressed with Governor Ron DeSantis while attending the Lincoln Dinner last night. He set out a clear vision for America from 2024 and beyond. His love for our nation was undeniable and he has proven it as being the only veteran to be seeking our Nation's highest office. I can't wait to hear more as he travels our great state."
Washington, Iowa activist Matt Wells: "Ron DeSantis absolutely rocked it at the Iowa Lincoln Dinner tonight. Focused. Policy rich. Knows what time it is. #IowaForDeSantis #DeSantis2024 #NeverBackDown"
Nevada Mayor and Story County GOP Chair Brett Barker: "The first volume alert on my Apple Watch from the crowd at the @IowaGOP Lincoln Dinner goes to Governor @RonDeSantis."
Rep. Chip Roy: "It's time for Americans to win again. #WinWithDeSantis #DeSanity"
Patrick Ruffini: "Echoes of the 2007 JJ? Time will tell, but this and the fight with Kamala suggest DeSantis regaining his footing."
NBC News' Gabe Gutierrez: "@GovRonDeSantis gets strong reception at Lincoln Dinner, most enthusiastic so far."
Chris Loesch: "This is fantastic."
SC Radio Host Tara Servatius: "Pure fire. Listen. What DeSantis has did in Florida is why the state has flipped solid red for the first time in my adult lifetime and why the population center of the country has shifted to Florida/the south for the 1st time since the founding."
John Stemberger: "Amazing speech."
The Blaze's Steve Deace: "From a little birdie at the Lincoln Dinner in Iowa last night, who worked with Trump White House and is open to DeSantis but so far hasn't been impressed with his campaign (also knows Iowa well): "DeSantis got a great spot getting to go after Asa. And then Scott was just so-so after him. A couple of folks, including Pence, got booed. Trump was flat and just talking off a script. DeSantis and Vivek had the most energy, and they had equal response in the after-party rooms to Trump. This was the first speech I've seen Ron properly parlay what he did in Florida to what he'll do in the future as president. He needs to do that more. It's the best I've seen DeSantis in the three of his events I've been to. Scott's polling is all a reflection of DeSantis not adequately messaging to evangelicals here. If he does that, he'll take over Scott's polling."
NBC News' Fin Gomez: "So far, DeSantis has received the loudest reaction from the Iowa Republicans at the IA GOP Lincoln dinner who have come to hear from the majority of the 2024 GOP field."
John R. Lott Jr: "Ron DeSantis gives an impassioned speech at the Iowa Lincoln Dinner. School Choice, Tough on Crime, #2A, Strong Border enforcement, Stood strong against those who wanted lockdowns, and much, much more #Election2024"
Politico's Natalie Allison: "DeSantis stayed late tonight to greet supporters, and in general hustled around quite a bit the last two days in Iowa — including for the kind of humble retail politics stops that some political observers previously doubted he'd embrace. (i.e. a dozen vets today in a remote area)"
Dave Reaboi: "Damn. I've never seen DeSantis so fired up, brimming with energy."
CNN's Kit Maher: "DeSantis at the Never Back Down reception room enjoys a Coors Light after taking photos with attendees, following speech at Iowa GOP dinner, says, "We're gonna get it done."
Ron DeSantis, DeSantis Campaign Press Release - What They Are Saying: Ron DeSantis Wins the Day in Iowa Online by Gerhard Peters and John T. Woolley, The American Presidency Project https://www.presidency.ucsb.edu/node/364224