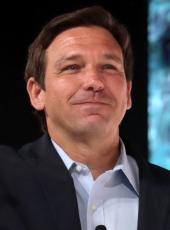 DeSantis Campaign Press Release - What They Are Saying: "Ron DeSantis Will Revive The Middle Class."
What They Are Saying: "Ron DeSantis Will Revive The Middle Class."
ROCHESTER, NH — Governor Ron DeSantis today rolled out his Declaration of Economic Independence at a New Hampshire manufacturing facility alongside local business owners and workers. Desantis' detailed, 10-point plan will reverse the decline of our nation's struggling economy and fight for the middle class by taking on the elites, DC bureaucrats, and Communist China.
Click here to read the full plan.
WHAT THEY ARE SAYING:
Christian Whiton, former Trump admin official: _"What DeSantis did today was fairly remarkable. A lot of detail, to make work for the middle class, not for BlackRock. The usual conventional wisdom is don't get too detailed, but DeSantis sort of sticking his neck out here with a lot of specific policy." _
Jason Chaffetz: "Governor DeSantis had it absolutely right. Look, the Federal Reserve is trying to tighten the money supply. At the same time the federal government is increasing the money supply. You can't have the federal government just spending in perpetuity. Bidenomics equals more government regulation, more government spending. That makes things more expensive. That's the bottom line."
Chip Roy, Texas Congressman: "The Declaration of Economic Independence announced by @RonDeSantis is spot on. He knows we must fight for the American family collapsing under an economy that no longer works for them as quality of life & economic security diminish. #WeWinTheyLose (1/4) #EconomicIndependence"
Phil Cox: _"Biden economic policies have been an utter disaster for working families in this country. Governor DeSantis understands that. That's why he laid out a substantive forward-looking plan: take back our economy from China from an out-of-control administrative state in Washington, DC, and put it back where it belongs, which is in the hands of middle-class Americans. And the good news for Americans is that all you have to do is look to Florida. It has the number one economy of any state in the country, great schools, educational freedom, educational choice, surpluses, low debt ratio, things are working in Florida. That's why everyone who's moving there." _
Hal Lambert: "The Biden administration wants to move us to multiple electric vehicles to be the majority of the cars in this country, and 80% of the batteries are manufactured in China. We're going to be more dependent on China for what they're saying our energy needs are. It's insane. And not only that, Neil, they came out earlier this year and said, 'we're going to start opening Electric Vehicle battery facilities in the Congo. And that's the future.' I mean, they're not talking about moving them here, they're talking about moving them keeping them overseas. That's the kind of thinking that we need to switch from, we need to move back to the American people. And that's what Governor DeSantis wants to do."
Tom Elliot: "DeSantis has got this exactly right. To fix the tuition & student loan crisis, the feds need to be removed from the equation entirely (having access to Washington's money printer is why tuition is skyrocketing several x the rate of inflation)"
Dan Eberhart: "His message about economic growth, about being a conservative without the baggage of Trump and his message about you know, what he's going to bring in terms of an energetic executive, that's pro America. I think is going to resonate very well with primary voters and with all voters in the general election and you're going to see him coalesce support."
HEADLINES:
Associated Press: DeSantis unveils new economic policy that targets China, taxes and regulations
Wall Street Journal: DeSantis Calls For Ending Normal Trade Ties With China
Yahoo Finance: Ron DeSantis's economic plan is to topple 'elites' from the Fed and C-suites
NBC: Ron DeSantis' economic platform goes after China, corporations and the 'elites'
New York Post: Ron DeSantis targets China, big business as he rolls out economy plan
Daily Wire: DeSantis Releases His 10-Point 'Declaration Of Economic Independence' Policy Platform
Washington Examiner: DeSantis unveils 'economic independence' plan: 'Our country is in decline right now'
Daily Caller: Ron DeSantis Will Revive The Middle Class. Here's How
Daily Mail: Ron DeSantis says even HE can't afford a Tesla and blasts Biden's push to put more EVs on the road
Just the News: DeSantis announces plan to boost economy by fighting for middle class against China, elites
Ron DeSantis, DeSantis Campaign Press Release - What They Are Saying: "Ron DeSantis Will Revive The Middle Class." Online by Gerhard Peters and John T. Woolley, The American Presidency Project https://www.presidency.ucsb.edu/node/364156