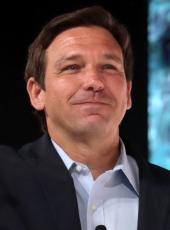 DeSantis Campaign Press Release - In the News: Washington Examiner: Florida does not teach students that slavery was good
Washington Examiner: Florida does not teach students that slavery was good
Hudson Crozier
July 20, 2023
Washington Examiner
Gov. Ron DeSantis (R-FL) has done a lot to scale back the Left's outsize influence over education. To rile up resistance, activists, politicians, and the media have spread almost every falsehood imaginable about what his anti-woke education policies actually do.
Those same forces have mobilized against Florida's new standards for history courses, which they accuse of "whitewashing" the truth about slavery and racism. It's hard to keep up with the deluge of flat-out lies they are relying on.
Critics claim the curriculum portrays slavery as "beneficial" to black people. The word "beneficial," however, does not appear anywhere in the document in relation to slavery. Their issue is with one sentence that reads, "Instruction includes how slaves developed skills which, in some instances, could be applied for their personal benefit."
The guidelines do not, by any stretch of the imagination, describe slavery as a positive thing. They emphasize the brutal "conditions" of slaves, how "an enslaved person" was treated as "property with no rights," and how slavery was at odds with "founding principles of liberty, justice and equality." Including facts about what slaves did to help themselves in these circumstances does not change that. It's simply a relevant part of the history of slaves.
Another controversial passage reads, "Instruction includes acts of violence perpetrated against and by African Americans but is not limited to 1906 Atlanta Race Riot, 1919 Washington, D.C. Race Riot, 1920 Ocoee Massacre, 1921 Tulsa Massacre and the 1923 Rosewood Massacre."
This "suggests that the [Ocoee] massacre was sparked by violence from African Americans," said Florida Democratic state Sen. Geraldine Thompson. "That's blaming the victim." Journalists have explained what white people did to ignite the deadly race riot as if to debunk the guidelines.
But the sentence is not assessing the blame in any of the particular Jim Crow-era events listed. When discussing incidents of racial violence, such as the four mentioned, the state wants teachers to include any known details about violence committed by both groups. Are we supposed to believe that whites were never among the casualties? Again, these are just relevant, neutral pieces of information.
The local newspaper Florida Phoenix was so caught up in the narrative that it misquoted the standards as saying "violence perpetrated by African Americans," leaving out the "against." At publishing time, it has not bothered to correct the error in its incredibly misleading article.
Liberal activist Genesis Robinson even claimed that Florida's secession from the Union during the Civil War is not mentioned in the curriculum. Once again, the easiest way to defend it is to quote its exact words: "Describe Florida's involvement (secession, blockades of ports, the battles of Ft. Pickens, Olustee, Ft. Brooke, Natural Bridge, food supply) in the Civil War" (emphasis mine).
And what fake racial controversy would be complete without melodrama from the NAACP?
"Today's actions by the Florida state government are an attempt to bring our country back to a 19th century America where Black life was not valued, nor our rights protected," NAACP President Derrick Johnson wailed.
I appreciate Johnson for articulating the pure paranoia driving this entire "whitewashing" hoax. Many on the Left are desperate to prove that conservatives want to erase history, desensitize the next generation to the evils of racism, and ultimately reintroduce discriminatory systems and the subjugation of blacks. It's one of the most difficult conspiracy theories to defend, so when they cannot find evidence for it, they make things up.
Ron DeSantis, DeSantis Campaign Press Release - In the News: Washington Examiner: Florida does not teach students that slavery was good Online by Gerhard Peters and John T. Woolley, The American Presidency Project https://www.presidency.ucsb.edu/node/364209