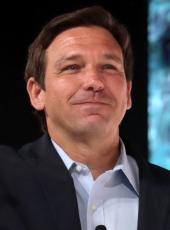 DeSantis Campaign Press Release - In The News: Steve Deace in the Washington Times: "Why I'm Endorsing Ron DeSantis for President"
"Florida Gov. Ron DeSantis has done more damage to the leftists intent on destroying America than any politician I've seen in my lifetime."
Today, Iowa kingmaker Steve Deace penned an op-ed in the Washington Times about his decision to endorse Ron DeSantis for president. Read the full article below.
Why I'm endorsing Ron DeSantis for president
Steve Deace
August 15, 2023
Florida Gov. Ron DeSantis has done more damage to the leftists intent on destroying America than any politician I've seen in my lifetime. He threw out the Republicans' losing playbook, took no prisoners, and showed conservatives what it looks like to go on the offensive and win. When he made promises, he delivered — and then some.
To put it bluntly, it's not enough to message and market "Make America Great Again." We need a ruthless, consistent leader to get it done.
His proven leadership aside, here are the three reasons why I decided to finally endorse Mr. DeSantis for president.
First, while I host a national show on BlazeTV, I live in Iowa, the first-in-the-nation caucus state. I'm heavily involved in the process here, and I've always believed that the audience deserves honesty whenever those who are blessed to do what I do for a living can provide it.
My overall analysis was already favorable to Mr. DeSantis before the endorsement, but now you know where I stand and can filter my commentary through that lens on your own.
Second, there won't be an option to vote for former President Donald Trump in the 2024 election.
He has real electability issues, but even more fundamental than that, I don't believe you'll be able to vote for him even if you want to. He will either be in prison by this time next year or forced to take a plea deal to stay out of it. The D.C. gulag wants to imprison him by hook or by crook — maybe even by Super Tuesday.
Every day we refuse to recognize this inevitable outcome is a wasted day. Since Republicans in Congress won't defund the Department of Justice (which Mr. Trump bizarrely hasn't asked for), the only way to stop the persecution of Mr. Trump is to win the election with a candidate who will break the system and clean house.
If Mr. Trump isn't on the ballot, who else has an actual record of draining swamps other than Mr. DeSantis? Nobody.
The same Vivek Ramaswamy currently auditioning to be bishop of MAGA just wrote a book — last year — condemning Mr. Trump and praising former Vice President Mike Pence, for goodness' sake.
Sen. Tim Scott is out there saying "build the wall" after years of saying "cops are racists" and "empty the prisons."
Opportunists abound, but one stands out as a proven ally. Only one other candidate truly threatens the system and arguably presents a greater threat than Mr. Trump: Ron DeSantis.
The DeSantis campaign has built the most impressive advance organization in my state that I've ever seen, and we're going to need him sooner than we realize.
Third, I fear the window to peaceably but meaningfully stop America's decline through the political process is closing. The only way to revive America's future is by securing policy victories.
We have already discredited the left's media. We have already discredited their institutions. We have already discredited their system.
Mr. Trump played an admirable and vital role in that, for which I am grateful, no doubt.
The problem? After the three years of hell this country went through, not a single meaningful incumbent lost power. There were only two places where the Democratic Party was rightfully destroyed: Florida and Iowa, two places with governors who didn't surrender their people to generational damage at the hands of Dr. Anthony Fauci, Dr. Deborah Birx and Mr. Trump.
On the right, we have forgotten that we will either meet the enemy in the arena of public policy or in the arena of war. That is the lesson of history. If we don't win on policy outcomes now, we will sentence our children and grandchildren to have to win on the battlefield later.
Those are the only two options. We can't win on policy without governing. To govern, we need the buy-in of our fellow citizens.
No one on the right this century has been a stronger leader than Ron DeSantis. Last November, his one-state crushing red wave proved he can win a general election.
Let me close with this. There is no incentive for me to do this. I've probably cost myself millions of dollars as both an author and movie producer this year by not shilling for Mr. Trump.
I'm endorsing Ron DeSantis for no other reason than I think it is the right and necessary thing to do for us, our children and our grandchildren.
Ron DeSantis, DeSantis Campaign Press Release - In The News: Steve Deace in the Washington Times: "Why I'm Endorsing Ron DeSantis for President" Online by Gerhard Peters and John T. Woolley, The American Presidency Project https://www.presidency.ucsb.edu/node/364154