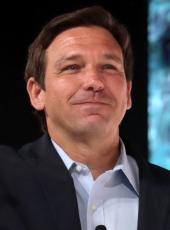 DeSantis Campaign Press Release - The DeSantis Family Does the Iowa State Fair: DeSantis Makes Surprise Appearance at Knoxville Nationals Sprint Car Race with Kim Reynolds
Governor DeSantis and First Lady Casey DeSantis today visited the Iowa State Fair, with their three children along for the fun. From serving burgers to Iowans to his live radio hit with WHO's Simon Conway, Governor DeSantis' state fair visit wrapped up a lively three-day, eight-county swing through the Hawkeye State.
Governor DeSantis started the morning with Governor Kim Reynold's Fair-Side Chat, where they spoke about the conservative policies he delivered for Floridians and his plan to do for America what he did in Florida.
"I just believe in service over self," said Governor DeSantis. "I believe if you have an opportunity to do good things for your community or your country, that you have a responsibility to do that and to get that done. And so that's really influenced me all the way up to the present in terms of what I'm looking to do with running for President."
Watch the full Fair-Side Chat HERE.
After the Fair-Side Chat, Governor DeSantis answered questions from the media and was asked by Fox News' Paul Steinhauser about Donald Trump's attacks on Kim Reynolds. Governor DeSantis said in response,
"I think that Donald Trump's attacks on Kim Reynolds are totally out of bounds. I couldn't disagree with it any more. And she's done really nothing but do a great job. She's never done anything to him. But that's just how he operates, to attack one of the best governors in the country. And Iowa has had a tremendous run of success here. The legislators had a lot to do with it, but clearly Kim really lead the way in ways that have been exemplary. So, I'm a big fan. I think as Republicans, we should be thankful and proud to see other Republicans doing well, particularly in a state like Iowa, which has not always been considered a red state. Just 10 years ago it was more of a swing state. She has had a lot to do with changing that. So I think I disagree with the attacks against her. I think he's way out of bounds. And at the end of the day, I'm glad that Kim Reynolds is at the helm here in the state of Iowa."
Governor DeSantis then went to the Pork Producers Tent with Senator Joni Ernst and Representative Zach Nunn, where he grilled pork chops and served burgers to Iowan fair-goers.
Another highlight of the day was the family fun. Governor DeSantis and First Lady Casey DeSantis, along with Madison, Mason, and Mamie, rode the bumper cars and the Ferris wheel, played carnival games, and ate snow cones and ice cream.
While seeing the fair sights, Governor DeSantis did a walk-and-talk with Fox News' Alexis McAdams, and highlighted the importance of the upcoming debates.
"People should debate. That's something that you owe it to the people to do," said Governor DeSantis.
Governor DeSantis also stopped by WHO's tent for a live radio interview with Simon Conway, where they talked about his aim to visit all 99 counties in Iowa and his military service.
Listen to the full interview HERE.
Governor DeSantis on visiting all 99 counties in Iowa:
"On Thursday and Friday, we did more bus touring, so we hit another six counties yesterday. We're up to 38 of the 99 that we visited so far... people appreciate it. I think that in politics and campaigns, you obviously go where there's a lot of population, of course, you have to do that, [but] when you show up to some of the more rural counties, they appreciate that you showed up, listened to them, took their questions and told them your vision. So we've had a really good response, and we're going to hit all 99, probably by the end of October I think we'll finish it."
Governor DeSantis on putting service over self:
"The reality is in a presidential campaign, people want to know about you. Why you? What's motivating you to want to be the next president of the United States? And so I have started to talk more about my decision to volunteer for the military after 9/11. I had opportunities because of hard work to put myself in position where I could have had some lucrative opportunities in the private sector, but I felt a responsibility to serve so we volunteered to serve, volunteered even to serve in Iraq alongside Navy Seals in Fallujah and Ramadi. And I think what that shows people, particularly Iowans, who I think really appreciate service, it says, 'Hey, this is a guy that's put service above self.' And I've done that throughout my career. And so they can have confidence that I'm running for president not because I want to be somebody, I'm running for President because I want to do big things on behalf of the country."
The DeSantis family ended the day with a surprise visit to the Knoxville Nationals Sprint Car Race with Governor Kim Reynolds.
Ron DeSantis, DeSantis Campaign Press Release - The DeSantis Family Does the Iowa State Fair: DeSantis Makes Surprise Appearance at Knoxville Nationals Sprint Car Race with Kim Reynolds Online by Gerhard Peters and John T. Woolley, The American Presidency Project https://www.presidency.ucsb.edu/node/364184