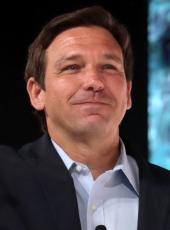 DeSantis Campaign Press Release - Ron DeSantis Wraps up Another Successful Granite State Swing
Ron DeSantis started his New Hampshire swing by delivering remarks at the Nashua Steakout Dinner on Friday evening. DeSantis told the audience, "This is a time for choosing."
Read about the event in NH Journal: "DeSantis Presents a New, More Personal Approach in Nashua Speech."
Here's what attendees had to say:
"It's the best I've ever seen him, absolutely," said Matthew Bartlett, a veteran GOP operative and Nashua native.
"I'm with DeSantis," Nashua Republican Paul Schibbelhute told NHJournal after the speech. "But I'm a Republican, and I'm going to support our nominee no matter who it is. I'll be holding signs for our candidates on Election Day."
State Rep. Jeanine Notter (R-Merrimack) has endorsed DeSantis and called his speech "outstanding." Asked why she's backing the Florida governor and not Trump, she simply replied, "The House."
On Saturday morning, he visited Rockingham County, where he walked in the Londonderry Old Home Day Parade. Old Home Day has been a tradition in New Hampshire for over 100 years.
Read more in Fox News: "On Saturday, DeSantis started his jam-packed day by marching in Londonderry, New Hampshire's annual Old Home Day Parade, and shaking plenty of hands along the nearly one-mile route."
DeSantis spent time with paradegoers and caught up with New Hampshire Governor Chris Sununu in Londonderry.
Governor Sununu [tweeted](https://twitter.com/ChrisSununu/status/1692923578499428827), "Handshake by handshake, person by person. That's how you win the First in the Nation Presidential Primary. Good to see @RonDeSantis doing it the New Hampshire way at the Londonderry Old Home Day Parade. Two of the best governors in the country hanging in Londonderry!"
Fox News Digital reporter @PaulSteinhauser tweeted: "2024 Election-Now: @FoxNews covers #GOP presidential candidate and Florida Gov. @RonDeSantis briefly team up with Republican Gov. @ChrisSununu of New Hampshire at the Londonderry, N.H. Old Home Day parade #2024Election #FITN #nhpolitics #FoxNews"
Later in the day, Ron DeSantis held a meet and greet in Manchester, where he talked with voters and residents and shared his vision for America's future.
Watch the event HERE.
"Live free or die. We need that all across these United States. It's wonderful to be back in New Hampshire. I'm here because our nation is in decline. And I'm running for president to send Joe Biden back to his basement in Delaware and to reverse American decline," DeSantis said to the crowd.
"A Saturday of shaking hands and taking questions for Florida Governor Ron DeSantis, a major focus, improving border security and a one-on-one conversation with News 9 DeSantis acknowledged Governor Chris Sununu's plea to congress for more support at the northern border," WMUR's Ross Ketschke reported from the event.
"There's not as many people [that are] coming across the south, of course, but I mean, for a state like New Hampshire to see this many people coming... And of course, we all know every community has been turned into a border community with this open border," DeSantis said.
Watch WMUR's coverage of the event HERE.
To end the day, DeSantis held a town hall with residents of Sullivan County.
@NHJournal tweeted: "Another big crowd for ?@RonDeSantis, this one in Newport, NH on Saturday night."
Watch the town hall HERE.
"When we did our border announcement in South Texas, I met a woman named Tracy, her son took one Percocet that happened to be laced with fentanyl and he died. That is not something that is uncommon in this country," DeSantis said to voters in Newport. "And yet the elites in DC, they don't give a damn that this is happening. They're not doing anything to stop it. When we are in charge, we are going to treat the drug cartels like the foreign terrorist organizations that they are."
Ron DeSantis, DeSantis Campaign Press Release - Ron DeSantis Wraps up Another Successful Granite State Swing Online by Gerhard Peters and John T. Woolley, The American Presidency Project https://www.presidency.ucsb.edu/node/364712