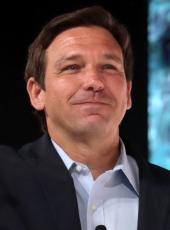 DeSantis Campaign Press Release - Ron DeSantis Receives 35 New Endorsements from South Carolina Legislators, Local Leaders
DeSantis now boasts 50 total endorsements in the Palmetto State
Ron DeSantis Receives 35 New Endorsements from South Carolina Legislators, Local Leaders
DeSantis now boasts 50 total endorsements in the Palmetto State
TALLAHASSEE, Fla. – Governor Ron DeSantis today received 35 new endorsements from South Carolina state legislators and local leaders. This new wave of support comes in addition to the 15 state legislators who have already endorsed the governor in the Palmetto State.
DeSantis now boasts an impressive total of over 275 endorsements from state legislators nationwide, demonstrating the strength and enthusiasm his campaign is building across the country.
"Governor DeSantis has a forward-looking vision to reverse the decline of this nation and get our economy back on track for working for families in South Carolina and across the country," said State Representative Joe Bustos. "As a fellow veteran, Ron DeSantis uniquely understands the service and sacrifice of our military, veterans, and their families, and I am proud to endorse him to be the next Commander-in-Chief and President of the United States."
"I am proud to endorse Ron DeSantis for president," said Tega Cay Mayor Pro Temp Tom Hyslip. "Governor DeSantis is a leader who delivered the most conservative agenda in the nation in Florida, cutting taxes, providing economic relief for working families, protecting personal freedoms, supporting law enforcement, and fighting for parents' rights. As President of the United States, he will get the job done and deliver those same results for the American people."
The full list of South Carolina legislators and local leaders who have endorsed Ron DeSantis for president is below.
New endorsements:
State Representative Joe Bustos
Edgefield County Sheriff Jody Rowland
McCormick County Sheriff Clarke Stearns
Aiken County Clerk of Court Robert Harte
Edgefield County Clerk of Court Charles "Sonny" Reel
Aiken County Councilman Kelley D. Mobley
Barnwell County Councilman Ben Kinlaw
Darlington County Councilman Marvin Le Flowers
Dorchester County Councilman Eddie Crosby
Greenville County Councilman Joey Russo
Laurens County Councilman Luke Rankin
Laurens County Councilman Kemp Younts
Richland County Councilman Jason Branham
Richland County Councilman Don Weaver
Inman Mayor Cornelius Huff
Tega Cay Mayor Pro Temp Tom Hyslip
Charleston City Councilman Boyd Gregg
North Augusta City Councilman David McGhee
North Augusta City Councilman Eric Presnell
Tega Cay City Councilman Gus Matchunis
Tega Cay City Councilman Scott Shirley
Clover Town Councilman Bo Legg
Fort Mill Town Councilman Allen Garrison
Isle of Palms Councilman John Bogosian
Beaufort County School Board Member Rachel Wisnefski
Beaufort County School Board Member Elizabeth Hey
Charleston County School Board Member Ed Kelley
Charleston County School Board Member Leah Whatley
Clover School Board Member Matt Burris
Dorchester County School Board Member Kellie Bates
Former State Representative Lin Bennett
Former State Representative Sandy McGarry
Former North Augusta Mayor Pro Temp Ken McDowell
Former Charleston City Councilman Henry Fishburne
Former Mount Pleasant Town Councilman Chris Nickels
Previous South Carolina endorsements:
State Senator Josh KimbrellState Senator Dwight LoftisState Senator Rex RiceState Senator Danny VerdinState Representative Gary BrewerState Representative Micah CaskeyState Representative Bill HerbkersmanState Representative Bill HixonState Representative Brandon GuffeyState Representative Steven LongState Representative Travis MooreState Representative Dennis MossState Representative Chris MurphyState Representative Roger NuttState Representative Ashley Trantham
Ron DeSantis, DeSantis Campaign Press Release - Ron DeSantis Receives 35 New Endorsements from South Carolina Legislators, Local Leaders Online by Gerhard Peters and John T. Woolley, The American Presidency Project https://www.presidency.ucsb.edu/node/364181