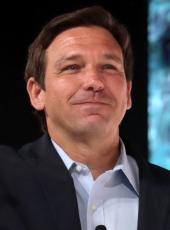 DeSantis Campaign Press Release - ICYMI: Ron DeSantis on The Story with Martha MacCallum: "We're going to earn it"
Ron DeSantis today joined The Story with Martha MacCallum on Fox News Channel. The highlights are below.
Watch the full interview HERE.
On the importance of standing on principle:
Every Republican voter I've ever come into contact with, whether they're strong for Trump, lukewarm, or anything in between, wants us to stand on principle when you get elected...I think one of the big problems with our party for many years is people say they're going to do certain things and then don't end up following through. At the end of the day, it's what are we delivering for the people that have put us into office. And in the state of Florida, I can say that I have delivered more for American first principles than anybody else in the country. We've prohibited the CCP from purchasing land. We've cracked down on illegal immigration, expanded second amendment rights. We got indoctrination out of our schools. We have universal school choice and our crime rate is at a 50-year low because we've done things like remove Soros-backed district attorneys. So, that is about results. You've had the people in Congress that I was referring to that have attacked me and tried to say somehow that I was a RINO. They're putting entertainment and personality over principle. Our voters want us to stand on principle and fight for them.
On why Donald Trump should debate:
Everybody should debate. Everybody has a responsibility to earn people's votes. Nobody is entitled to anything in this world, less of all the Republican nomination for president. I'm going to be there. I'm going to be making the case, and this is really a great opportunity because I don't think very many people over the summer have been following that closely. This is going to be the first time that candidates are going to be able to speak unfiltered to a large number of Americans, so I'm going to make the case that under Joe Biden, this country is in decline. We need to send Biden back to his basement in Delaware and reverse the country's decline, and I'm the guy that can do it. We have proven it in the state of Florida, and I won't let people down as the next president.
On his support from Iowa voters:
We already have 99 counties organized with the political organization [and] close to 11,000 that have already committed to caucus with us, and we're just in the summer before. Most people aren't even paying attention yet, so we're going to earn it in the state of Iowa. And that poll that came out...it shows that I had the highest favorability of any of the Republican candidates, and that both Donald Trump and I were basically neck-and-neck in terms of who would they consider, so we're just going to go earn it, and we look forward to doing that over these next five months.
On what makes him the best candidate for President:
I started off in my life working minimum wage jobs. I mean, I was a blue collar kid. I didn't have anything handed to me. But I believed in America, you work hard, you can get ahead. That's what we should be showing people. We shouldn't be displaying a sense of entitlement.
On Why He is Running:
I can tell you this though, of anyone on that stage, I'm the only one whose sole purpose is running to be the 47th President of the United States and to reverse this country's decline. I'm not running to be vice president. I'm not running to be in the cabinet. And I'm not running to be a contributor on cable news. We're running to win and we're going to show people that we'll get the job done.
Ron DeSantis, DeSantis Campaign Press Release - ICYMI: Ron DeSantis on The Story with Martha MacCallum: "We're going to earn it" Online by Gerhard Peters and John T. Woolley, The American Presidency Project https://www.presidency.ucsb.edu/node/364724