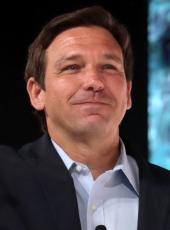 DeSantis Campaign Press Release - ICYMI: Ron DeSantis Sits Down with Brian Sullivan on CNBC's Last Call
"Biden's made a decision to go with the Green New Deal and pursue that agenda. That is not an agenda that is going to help us reduce inflation."
Ron DeSantis sat down with Brian Sullivan from CNBC's Last Call. Read the highlights below.
Watch the full interview HERE.
On his opposition to tax increases:
"We don't want to see increases in taxes. We definitely want to see things like permanent bonus depreciation, making sure you have full expensing, I think that that's a really smart thing to do. That's kind of been eroded over the last few years. But we should do that. But here's the thing, we are taking in as high a percentage of our GDP in taxes, as we have in any time since World War Two, even when we had higher tax rates in like the 40s or 50s. And so I don't know how much more meat there is on the bone in terms of taxes."
On bringing down the national debt:
"I've been saying that our country is in a state of decline now, cultural, military, but also economic. And I think this debt figure is a great example of that. I mean, we've added like 12 trillion to the debt in like the last five or six years... This idea, that is all the Democrats--I tell Republican audiences, both parties have done it, both parties have been involved. And actually, Republicans are very tough when they're out of power. But when they get in power, you know, they basically go on a spending binge, too. And I think you've seen it over the last five or six years. 100%, it's a bipartisan thing. But how do we end up with $32 trillion in debt?
A lot of it was how they handled the response to COVID. I mean, they did trillions and trillions of dollars, very little to show for it. The response was poor. But what the Congress has done, they basically locked in that level of spending. Once government increases spending, that kind of becomes the new baseline. You can't govern like that. In Florida, we basically do zero-based budgeting. So you could head an agency in Florida, maybe you got a billion dollars last year, you're not entitled to get more than a billion next year. You have to justify what you're going to do. We don't do that in Washington. So debt does matter. The interest is gobbling up more and more percentage. I mean I think the percentage of GDP that's dedicated to interest payments has doubled in the last five or six years. That is not healthy. Clearly, we've got to get inflation under control. Part of that is Congress should stop spending so much money. Part of that is grow the economy. Part of it is increased productivity. But part of it is energy independence and unleashing our domestic energy production. Biden's made a decision to go with the Green New Deal and pursue that agenda. That is not an agenda that is going to help us reduce inflation. It is not an agenda that's going to be good for the average American family. That's not an agenda that's going to be good for maximum economic growth. We have an opportunity to have a huge competitive advantage with our energy resources here in the United States. But when you say don't do that, focus more on EV, that's emboldening Russia, Iran, Venezuela, and China. So geopolitically, it makes a lot of sense for us to be energy independent."
On the dangers of ESG:
"We have a lot of migration into Florida. These people tell me why they do. You can talk to realtors, yes, freedom from COVID, yes, low taxes, a lot of that. But they will say public safety is one of the top reasons why they're moving from San Francisco or Chicago, or New York City to Florida because they haven't taken it seriously. So you've got to get that right. But here's the thing, it's connected to ESG and some of this other stuff, because it's ideology. They're putting ideology ahead of tried-and-true principles. New York figured out how to keep the streets safe. If you look under Giuliani and Bloomberg, it was the safest big city in the world, probably because they took the policing seriously, they'd hold criminals accountable. A lot of these liberal jurisdictions have turned their back on it. But I would say it's the same thing that motivates ESG, its ideology that's motivated ESG."
On if he would re-nominate Jerome Powell as the Federal Reserve Chair:
GOV. DESANTIS: "No."
BRIAN SULLIVAN: "Why not?"
GOV. DESANTIS: "I don't think he's done a good job. I mean, I think from COVID on, they put too much money into the economy, that drove the inflation but then they said it was going to be transitory, that we had to unlearn Milton Friedman, no. When you start doing something like that, it's about 18 to 20 months you are going to see inflation so they were behind the ball on that and then they pipe so much now it's caused a lot of problems in the economy and could end up driving us into a recession."
Ron DeSantis, DeSantis Campaign Press Release - ICYMI: Ron DeSantis Sits Down with Brian Sullivan on CNBC's Last Call Online by Gerhard Peters and John T. Woolley, The American Presidency Project https://www.presidency.ucsb.edu/node/364192