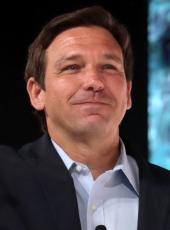 DeSantis Campaign Press Release - ICYMI: Ron DeSantis on Jesse Watters Primetime: "They Just Want Control"
Governor DeSantis stopped by Grimaldi's Coal Brick-Oven Pizzeria this afternoon to visit with the owners and enjoy a slice with Jesse Watters. In an interview that aired on Jesse Watters Primetime on Fox News Channel tonight, Governor Ron DeSantis said, *"They [the Left] just want to control. You have an itch on the left, they want to control behavior." *
Following the interview, the DeSantis campaign amplified the governor's defense of coal-fired ovens by launching pizza-themed tee shirts that read*, "Biden...one term, everyone knows the rules."*
**On why the Left is going after coal-fired ovens: **
"They just want to control. You have an itch on the left, they want to control behavior. We saw the same thing with Covid. A lot of that was not about your health, it was about that they wanted to control your behavior. They just do not want people to be happy and be able to make their own decisions. They were going after gas stoves in Florida, we made them tax free. We may have to do some incentives for the coal fired pizza."
On Bidenomics:
"Bidenomics is: you pay more for the necessities of life. And he has this grand global warming vision with all the Green New Deal. You will pay more for everyday energy, transportation and groceries. We have seen it happen in other parts of the world. That is what he wants in store for the average American."
**On his plan to stop the invasion and secure the border: **
"One of the things I saw, the places where there were barriers, the cartels actually cut through the steel beams, and they'll smuggle in backpacks with a lot of drugs. So what I said is, wait a minute, we defend the territory of our own country, we'll have military and everyone down there. If you are in the cartels cutting through our fence to bring drugs in, that's going to be the last thing you do because we're going to leave you stone cold dead. We are having adequate rules of engagement."
Watch the interview here.
 Also Note:
In an interview with Martha MacCallum on Wednesday, Governor DeSantis said: "He [Joe Biden] is wrong on energy. His vision to not have domestic energy production is going to lead to the average family paying more for energy. It's going to make them poorer. If you think about it, he's talking about global warming, all this stuff, China builds a new coal-fired plant like every week. What is the administration doing and their allies in state and local governments? They're trying to stop coal-fired pizza shops from being able to operate in New York City. I think they have all of this backwards, and I think at the end of the day, the average working person knows, it's harder to make ends meet under Joe Biden as president."
Ron DeSantis, DeSantis Campaign Press Release - ICYMI: Ron DeSantis on Jesse Watters Primetime: "They Just Want Control" Online by Gerhard Peters and John T. Woolley, The American Presidency Project https://www.presidency.ucsb.edu/node/364168