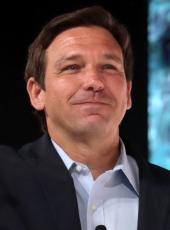 DeSantis Campaign Press Release - ICYMI: Ron DeSantis Holds a Virtual Press Conference with New England Media
"As President, I'll be the leader--but it's not going to be focusing on me--it's going to be focusing on what the American people need, so that we could get this country on the right track, and we can stop our nation's decline. And that's what I'm committed to do."
Ron DeSantis today held a virtual press conference with New England media ahead of his trip to New Hampshire this weekend. The highlights are below.
Video of the virtual press conference will be posted on Rumble shortly.
On Donald Trump's indictment by a grand jury in Fulton County, Georgia:
So, I haven't had a chance to read it all. But I will tell you, Atlanta has huge problems with crime right now. And there has been an approach to crime which has been less than exacting. I think there have been criminals that have been let out that shouldn't have been let out. And so they're now doing an inordinate amount of resources to try to shoehorn this contest over the 2020 election into a RICO statute, which was really designed to be able to go after organized crime, not necessarily to go after political activity. And so, I think it's an example of this criminalization of politics. I don't think that this is something that is good for the country, but I think a lot of Republican voters are looking at some of the things that have happened, whether it's the Department of Justice, whether it is some of the things that have happened locally, and I think the question is, okay, what are we going to do about it? And I've already said, as president, we are going to end the weaponization of federal agencies like the DOJ and FBI. We'll have a new director. We will have new leadership in the DOJ. We're going to make sure that there's a single standard of justice in this country. Now, in terms of some of these local DAs: in Florida, we've actually suspended two--one in Tampa and one in Orlando--over the last year for failure to follow their duties and responsibilities. And as President, we will lean in against some of these local prosecutors if they are not following the law or if they are abandoning their duty to enforce the law evenly. So I think that — I don't know how it's going to affect anything politically. For me, at the end of the day, it's about 'let's get this country in a good direction.' We need to have confidence in our justice system again, but before we get there, you know, we need major, major accountability.
On Donald Trump's attacks on New Hampshire Governor Chris Sununu:
I disagree with Donald Trump's attacks on Governor Chris Sununu. I think New Hampshire is the best governed state in New England. I think Chris has done a great job up there and you can see with the fact that people flee to New Hampshire, just like people flee to Florida, whether it's to escape crime, high taxes, you name it. So those guys have done a good job up in New Hampshire as the Live Free or Die state. And as Republicans, we should be supporting Republican governors whether it's Kim Reynolds in Iowa or Chris Sununu in New Hampshire. When they can get elected with big victories and then deliver. So just as a fellow governor, I appreciate that very much.
On what he has learned on the ground campaigning in the Granite State:
I think there's been a couple of things. I mean, I think one, with the drug problems... it really underscored how national this problem of the border is, that you can go to a state like New Hampshire tucked away in New England, thousands of miles from the southern border, and yet you have these lives that are shattered by things like fentanyl overdose, and it really resonates in New Hampshire. So it just shows we've got to get that problem done. We've got to stop what's happening at the southern border and I'll be able to get that done. I think another thing is, and we've done a lot in Florida, but just the need to really have a good pathway for mental health in this country, particularly mental health for our veterans. You know a lot of people don't realize what a huge percentage of the population in New Hampshire are veterans. You know, people kind of know they retire to Florida, they assume some other states. But this is a really big deal in New Hampshire, and we've done some things in Florida. We're going to be rolling out a veteran's package very, very soon that's going to build up some of the things we've done in Florida, but will also incorporate what we've been hearing on the campaign trail. And I would say that's been something that I've seen in Iowa as well. I think that there's a lot of concern. If we went back 10 years ago, I don't think you would see voters as concerned about some of the issues regarding mental health. So we're going to tackle that head on, particularly when it comes to our veterans and particularly when it comes to our first responders.
On his forward-looking vision for America:
Even if you appreciate some of President Trump's accomplishments, how do we get this going forward, where we can make it about the future of the American people, rather than focusing and relitigating some of this stuff from the past? How do we get it to where the average voter knows we're focusing on your family, and your community's well-being and your kids education and safe streets? If it's on those issues, I think we're going to be in really, really good shape. So clearly, do you have a candidate like me, you know, we're not going to have to focus on some of the controversies of the past. We can focus on our vision for the future. Now, some of that, of course, does involve bringing accountability for things that may have happened in the past. Part of that is COVID accountability, part of that is ending weaponization of DOJ and FBI, of course. I mean, those are really, really important things, but I think the general thrust has got to be for our party to win, about the American people's future, and I'm just a vessel for this. As President, I'll be the leader--but it's not going to be focusing on me--it's going to be focusing on what the American people need, so that we could get this country on the right track, and we can stop our nation's decline. And that's what I'm committed to do. And we're going to take that message in small towns, in big cities wherever we need to go, we're going to do that.
Ron DeSantis, DeSantis Campaign Press Release - ICYMI: Ron DeSantis Holds a Virtual Press Conference with New England Media Online by Gerhard Peters and John T. Woolley, The American Presidency Project https://www.presidency.ucsb.edu/node/364179