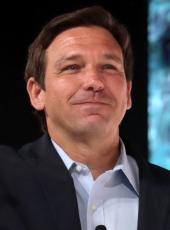 DeSantis Campaign Press Release - ICYMI: Ron DeSantis' Historic Presidential Announcement Night
DeSantis Was Everywhere
Florida Governor Ron DeSantis officially announced his campaign for president tonight, and he did so in historic fashion. Governor DeSantis was everywhere.
The governor kicked off the evening by becoming the first-ever candidate to announce his campaign live on Twitter Spaces and broke the Internet in the process.
Governor DeSantis said during the Twitter Spaces conversation: "If you nominate me, you can set your clock to January 20, 2025, at high noon, because on the west side of the US Capitol, I will be taking the oath of office as the 47th President of the United States, no excuses, I will get the job done."
Listen to the full Twitter Spaces Discussion HERE.
In addition to the unprecedented virtual presidential announcement, the governor shared a video on Twitter in which he took aim at Joe Biden's failures and stressed how our Great American Comeback is attainable, but will take courageous leadership and a bold vision.
Watch the announcement video HERE.
Governor DeSantis then participated in his first interview of the campaign with Fox News Channel's Trey Gowdy.
Governor DeSantis said during the interview: "You can call me whatever you want, just make sure you call me a winner because that's what we've done in the state of Florida --- and that's exactly what we would do nationally, not only in the election, but actually bringing all these great policies to bear."
Watch a highlight from the interview HERE.
Next, Governor DeSantis called into the Mark Levin Show and highlighted his philosophy on leadership.
Governor DeSantis said during the interview: "What I'm doing comes from a matter of principle and conviction. These are things that I believe. It's just part of who I am."
Listen to the full interview HERE.
After that, the governor was joined by grassroots leaders from across the nation for a telephone town hall in which he answered questions about his vision for the country on key issues like reviving the economy, securing the border, and stopping the Left's woke agenda.
"We should choose a new direction, a path that will lead to American revitalization. We need to restore sanity to our nation, normalcy to our communities, and integrity to our institutions," **the governor said to listeners on the telephone town hall. **
**DeSantis capped off the night with a briefing call and Q&A with over 45 media outlets to speak about his priorities for the campaign and what to expect next. **
DeSantis told reporters on the call: "When we work, we work very hard, we're not just going to show up once in a blue moon. We're going to paint every corner of these early states... We've got an incredible amount of enthusiasm."
Ron DeSantis, DeSantis Campaign Press Release - ICYMI: Ron DeSantis' Historic Presidential Announcement Night Online by Gerhard Peters and John T. Woolley, The American Presidency Project https://www.presidency.ucsb.edu/node/364170