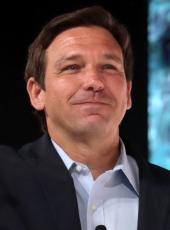 DeSantis Campaign Press Release - ICYMI: Ron DeSantis on Fox News: "As I stand my ground for you, you can take that to the bank. I am not going to back down."
Milwaukee, WI - Right after dominating the stage at the first Republican Primary Presidential debate, Ron DeSantis joined Sean Hannity live on Fox News. Read the highlights below.
Watch the full interview HERE.
On his optimism for bringing our country back from decline:
I think the nation is in decline. But this decline is a choice. And we're going to make this choice over the next 18 months. We can reverse the decline, or we can restore America...In some respects, we can point out all the bad things and there's a lot of bad things, but I am optimistic that it can be done. You know why? Because we did it in Florida. Everything I laid out in Florida we accomplished, and the state has boomed. We can do the same thing for the US.
On his ability to get things done and follow through on his promises:
I think that there's a lot of people that get elected, [and] they over promise, under deliver when times get really tough. There's a lot of people that aren't going to stay in the fire. What I did in Florida, particularly during COVID, making sure the kids can be in school, protecting everyone's business, as I stand my ground for you, you can take that to the bank. I am not going to back down. I've taken on the left, the Democrats and the media and we've beaten all those people. And I think that in Florida, part of the reason I did so well is because people knew where I stood and they knew, 'look, if the governor says he's going to do something, he's going to do it. He doesn't just make idle promises when he says it will do it.' So I think that's the same thing as President. I'm campaigning on a bold agenda, but I'm not saying anything that I don't intend to follow through with.
On how he'll earn the nomination:
I'm loyal to my family, the Constitution and the Lord our God. I work with other politicians to advance a common agenda, but nobody's entitled to be endorsed or supported. You've got to earn that. And I would mind you, you know, he started attacking me before I even got into the before I even got reelected. He started to do it. So that's fine. But at the end of the day, we're going to do what we need to do.
On his plan to secure our border and stop the invasion:
When I talk about using the military to take on the drug cartels, because they're killing tens of thousands of our citizens, we have every right to do it. I'm going to do it. I'm not just going to get in the office and say forget about it, so people should know that. Now's the time to get it done. I think our country, if we get another four years of this, I don't know if we can recover.
Ron DeSantis, DeSantis Campaign Press Release - ICYMI: Ron DeSantis on Fox News: "As I stand my ground for you, you can take that to the bank. I am not going to back down." Online by Gerhard Peters and John T. Woolley, The American Presidency Project https://www.presidency.ucsb.edu/node/364714