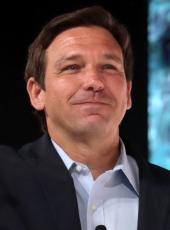 DeSantis Campaign Press Release - ICYMI: Ron DeSantis on Fox and Friends: "100% of my time was talking about our vision for the future and my accomplishments."
BROOKFIELD, WI - Ron DeSantis this morning joined Brian Kilmeade on Fox and Friends live from The Original Pancake House in Brookfield, Wisconsin. The hit was just hours after DeSantis dominated the stage at the first Republican Primary Presidential debate. The highlights are below.
DeSantis also joined the Brian Kilmeade Show on Fox Radio to discuss how he will appear at the Field of Dreams in Dyersville, IA tonight.
Watch the full Fox and Friends interview HERE.
On last night's debate:
100% of my time was talking about our vision for the future and my accomplishments. And so there's a lot of people up there that said a lot of things. I'm the only one that's actually delivered on all these issues, whether it's economy, whether it's the crime, the border, you name it. And so looking forward, those are the issues that we were really strong on, the issues that people really care about. Look, we're auditioning to be the President of the United States. I'm not here to get into a food fight. If someone came after me, I was ready to go loaded for bear. We were going to respond and put that to bed. But I was more interested in talking directly to the people at home rather than some of the bickering that was back and forth.
On his plan to secure our border and stop the invasion:
You as Commander-in-Chief have a responsibility to fight back and to defend the people of this country. And you look at the body count now from the fentanyl that's coming in, it's over 100,000. People are overdosing on drugs, tens of thousands from fentanyl. We now have a collection around the country of what's called angel moms, so these are mothers that have lost kids to fentanyl overdose. I've had a chance to meet with a lot of them. You know, these are kids that may take like a Xanax or something... but here's the thing. That's giving them the death penalty if it's done with fentanyl. It's going to stop when I'm president. We're going to treat the cartels like the foreign terrorist organizations they are.
On combatting China and protecting US interests:
The problem is, Biden, he views China as a client, not as an adversary, and so we need to surge more resources there. Under my administration, our defense posture will be the Indo-Pacific will be the primary, Europe is going to have to do more. In Europe, we'll work with them, they're allies, but we don't have adequate resources to be able to provide worldwide security. We have to face that fact, and we have to do what we take to deter the China threat.
On focusing on the future:
It's not about some of these past things. It's about the country's future, and that's got to be the sole focus. And if we as Republicans are focused on that, holding Biden accountable, we are going to win. If we litigate the whole issue about what happened on January 6, which is what the media and the Dems want, then Biden's going to be in his basement again, and he's going to get away with it.
On how his military background prepares him to lead as Commander-in-Chief:
I'm doing things on behalf of the people. It's not about me. I don't like talking about myself, but I do think people want to know more about you. I mentioned last night at the debate, I served, I volunteered to serve in Iraq. I was attached to US Navy SEALs...I worked hard as a blue-collar kid to get degrees from Yale and Harvard. I could have made a lot of money, but I was inspired by 9/11. And so I volunteered to serve. [I] didn't have to do it. But I believed in this country, so people appreciate that. They also appreciate to know that I'm family-oriented with our three kids. And then they do like the fact that, you know what? This kid's gritty. He's a guy that had to work as a kid to get through places. He didn't have anything handed to him. That's really [what] America is about. If you work hard, you can get ahead. We're losing that as a country. And that's one of the reasons why I'm running.
Ron DeSantis, DeSantis Campaign Press Release - ICYMI: Ron DeSantis on Fox and Friends: "100% of my time was talking about our vision for the future and my accomplishments." Online by Gerhard Peters and John T. Woolley, The American Presidency Project https://www.presidency.ucsb.edu/node/364717