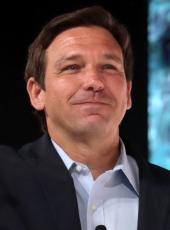 DeSantis Campaign Press Release - ICYMI: Ron DeSantis' Exclusive Interview with Kayleigh McEnany
Tallahassee, FL - Ron DeSantis sat down for an exclusive interview with Fox News' Kayleigh McEnany in Perry, Florida after serving dinner to linemen who are working on power restoration efforts in communities impacted by Hurricane Idalia. The highlights are below.
On Biden's attempt to politicize Hurricane Idalia:
I studied history, and they act like this is somehow unprecedented. It's not. This area, the Big Bend, got hit by a storm, almost the exact same track in 1896. That at 125 mile per hour winds. So the idea that we've not had powerful storms until recently, that's just not factually true. And so when they that's the first thing they want to say you have to ask why are you trying to politicize the weather.
On Biden's tone-deaf 'I have no home to go to' comments:
That's odd. I didn't actually hear there hear that he had said that. Look, I was there on the ground as soon as the storm hit. But to be there when they're showing up for the first time seeing their home that had been under six feet of water, some of the homes and like horseshoe beach got washed away. They're now in the water. You know, that hits that hits you in the gut. I mean, it's just a major, major gut punch. And you see that the anguish in people's faces. And you know, they're resilient, and they're tough. But at the same time, when you have something that you built your whole life around, and it's not always their primary residence. Some of these people live interior and then they go out and in some of these, but still either way. It's a major, major gut punch.
On the importance of protecting parental rights:
We want education, not indoctrination, and we want parents to have their rights protected. They ultimately are the ones who have the right to direct the education and upbringing of their kids. And I think parents throughout this country should be able to send their kids to school without having an agenda shoved down their throat. Even ten years ago, nobody would have thought that you would go to a second-grade classroom and teach a second grader that they can change genders. First of all, it's not true. Second of all, it's totally inappropriate. So I think parents rights should apply nationally. How you do that in terms of Congress acting? There are some strings in terms of federal funding that people take. But the bottom line is, for me, I'm going to be on the side of parents. I'm going to be on the side of having curriculum that is rooted in academic achievement, not in somebody's social agenda. And parents have the right to inspect the curriculum.
On the importance of creating a culture of life:
Most of these women do not want to have abortions. But they feel like they have no other options because they get no support. And that's because a lot of these men are nowhere to be found. They should absolutely be providing support. What we've done in Florida is we've recognized that being pro-life means for the whole kit and caboodle. So we've expanded postpartum medical care for poor women to a full year after they have a child. We've also done things to advance options for foster care and adoption because that is something that we want to be able to foster. I think a lot of it comes down to whether women think it's financially feasible to do that. And when they don't get support from the father, then it can be overwhelming. So we in Florida are sympathetic to those women in that situation.
Ron DeSantis, DeSantis Campaign Press Release - ICYMI: Ron DeSantis' Exclusive Interview with Kayleigh McEnany Online by Gerhard Peters and John T. Woolley, The American Presidency Project https://www.presidency.ucsb.edu/node/364713