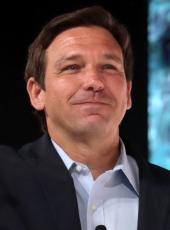 DeSantis Campaign Press Release - ICYMI: Ron and Casey DeSantis joined Ainsley Earhardt on Fox & Friends: "We will not back down when it comes to our family."
TALLAHASSEE, Fla. — Florida Governor Ron DeSantis and First Lady Casey DeSantis joined Ainsley Earhardt in an interview that aired on Fox & Friends this morning. The highlights are below.
Watch the clips here (part one, part two)
First Lady DeSantis on fighting back against corporate media narratives:
"One thing that the corporate media did get right about me, I do shop at Walmart. I think it's interesting and you probably can sympathize with this. When they come after you and they're just calling you names, that means they don't want to litigate the merits of their case. They don't want to have that conversation. They want to call you names, they want to try to get you to back down, but I can tell you the number one thing: we will not back down when it comes to our family."
First Lady DeSantis on her cancer diagnosis:
"Well you know, anybody will say with a cancer diagnosis, when you start hearing those words, it's not definitive right out of the gate. It is something that is problematic. The really hard part for me was that I had a four, a three-year-old, and a one-year-old in the house. It's very, very difficult. When you look at your children and they don't know...they have no idea what mama went through. As a matter of fact, when I was going through six rounds of chemotherapy, six weeks of radiation, and three surgeries, I couldn't really use my left arm. A lot of times, I told them I just hurt my arm, because they didn't want to tell them. But through God's grace, I'm here. And this guy [Ron DeSantis] helped me more than you will ever realize."
On the Mamas for DeSantis Initiative:
Governor DeSantis: "I think at the end of the day, she's just a very genuine person. She really believes in this country. She really cares about the country's future, because our three young kids are six, five and three. When she does things like rally mothers, like she did throughout the state of Florida, and grandmothers, since it is Florida, we want to include them, and now she's doing it around the country. It's because a lot of the issues that these parents are facing, we're facing. We're in the same boat. We're very sympathetic to that. And so, she is somebody that is very, very strong on the rights of parents and the well-being of children."
First Lady Casey DeSantis: "We feel that if we can do something to change the trajectory, and indeed preserve our American Republic, and we can take one for the team by getting hit on behalf of the people of this country- we're going to do it. We're going to fight for your family, we're going to fight for our family, and we're going to fight for America going forward."
Governor DeSantis on the importance of participating in presidential debates:
"Oh, I think we'll do well either way. I mean, I think he owes it to people to participate. Nobody is entitled to be nominated. You've got to earn it. You gotta earn everything in this world. So, I think you show up. I think you participate. I think you make your case. And I think you answer questions. So, we're going to be doing that, regardless of who else shows up. Yeah, I think he ought to participate."
Ron DeSantis, DeSantis Campaign Press Release - ICYMI: Ron and Casey DeSantis joined Ainsley Earhardt on Fox & Friends: "We will not back down when it comes to our family." Online by Gerhard Peters and John T. Woolley, The American Presidency Project https://www.presidency.ucsb.edu/node/364162