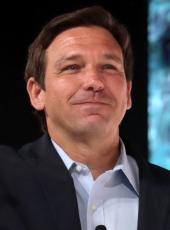 DeSantis Campaign Press Release - ICYMI: Ron and Casey DeSantis Featured in Harris Faulkner's "Families in Focus" Series
"Just like he fought for me, he fought for the people of this state"
Tallahassee, FL - Ron and Casey DeSantis sat down with Harris Faulkner for a "Families in Focus" interview that aired on Fox News' Faulkner Focus today. Read the highlights below.
Watch the full interview HERE.
First Lady Casey DeSantis on what defines her as First Lady of Florida:
_ I think one who looks at the role with a lot of humility, right? It isn't about me. It is about being in a position to be able to do good on behalf of the people of this state and hopefully of this country._
First Lady Casey DeSantis on her Hope Florida initiative:
We've been able to transition off either partly or entirely more than 8,100 people from government assistance because they're on a pathway to economic self-sufficiency. They're now in homes on their own. They're cooking for their children, literally in tears because this is the first time that they have a roof over their home, over their house that they've been able to get on their own.
Governor DeSantis on First Lady Casey DeSantis' battle with cancer:
I did my role as what a good husband should do, but she really fought hard. And I'll tell you, once we went public with it, the amount of prayers that we got from Florida and around the country really boosted her spirit and my spirit.
First Lady Casey DeSantis on her battle with cancer:
The day that I ultimately found out, it was Ron who was the one that told me because I couldn't listen to the doctors. I didn't want to hear any of the opining. I didn't know if I was going to see my kids graduate from kindergarten, let alone going off into high school or watching them walk down the aisle. So I had him every step of the way there as a shoulder to cry on.
Governor DeSantis on knocking doors with First Lady Casey DeSantis during his campaign:
When I first ran for Congress in 2012, she'd be knocking on doors, these Republican voter's doors, and just think about it. Like you're on TV. When people see you in person, it's kind of a big deal if they know you from TV. So literally someone that they see on the morning show shows up at their doorstep and they're like, wait a minute, I know you.
First Lady DeSantis on being a mother:
They're the first young family to live in the governor's mansion in about 60 years. Mamie is the first baby born in the governor's mansion in about 50 years, and so they have a unique perspective on life. They've always had the security detail around them. They think that that's just normal part of life, but they're having fun and they get a lot of neat opportunities. And also this is an opportunity for us to be able to teach our kids about what exactly we are fighting for.
Ron DeSantis, DeSantis Campaign Press Release - ICYMI: Ron and Casey DeSantis Featured in Harris Faulkner's "Families in Focus" Series Online by Gerhard Peters and John T. Woolley, The American Presidency Project https://www.presidency.ucsb.edu/node/364722