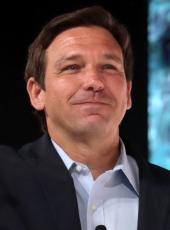 DeSantis Campaign Press Release - ICYMI: Governor Ron DeSantis on The Faulkner Focus
"I'm fighting back against false narratives...we will stand our ground and we will speak the truth"
TALLAHASSEE, Fla. — Governor DeSantis today joined Fox News' Harris Faulkner on The Faulkner Focus. The highlights are below.
Watch the full interview HERE.
On the weaponization of the DOJ:
One of the reasons I'm running for president is to re-constitutionalize the federal government. These agencies that have become weaponized, the FBI [and] the DOJ, against political opponents, that's a result of them not being held constitutionally accountable for many, many years. So when I'm President, we will bring accountability. We will end weaponization in regard to new leadership at the FBI, DOJ. We're going to take power out of DC. We're going to return it to the American people. But one of the things I mentioned, that statement is important to point out. The reality is, a DC jury would indict a ham sandwich and convict a ham sandwich if it was a Republican ham sandwich. I think Americans need to be able to move cases out of DC. I think the juries are stacked. I think that they're going to want to convict people that they disagree with, or at a minimum, you should be able to draw jury pool from across the entire country. That is really what's at stake in terms of, do we have a single standard of justice? Or do we have a track of justice where if you're connected to the swamp, you get off, whether it's Hunter Biden, whether it was the guy Durham tried to prosecute, or are we going to live under a single rule of law? I think we have to reestablish a single rule of law in this country.
On proving the naysayers wrong:
I don't think anyone running on our side that's had as much political success as me. We won big elections throughout my career, including the best Republican governor victory in the history of the state of Florida, where we're winning women by almost double digits. We're winning Miami Dade County by double digits. Winning over 60% of Hispanics and winning independents by 18%. So we've got a record of success, and you're going to be able to see that as this campaign goes on. So the naysayers have always hit me for my entire time as governor. People wrote me off during COVID because I was taking a strong stance against people like Fauci, but we lead and we deliver results and that's why we've been successful. We'll continue to be successful in this campaign.
On Florida's economic success:
Since I've been governor, we've actually paid down 25% of our state's debt. We run massive budget surpluses. CNBC ranks us number one of all 50 states for the economy. US News ranks us number one for education amongst all 50 states and our crime rate is at a 50-year low. And as you mentioned, since I've been governor, there's been more wealth moved into the state of Florida than has ever moved into another state in the history of the United States over a similar period of time. This is all in spite of COVID lockdowns that we bucked, Bidenomics, all this stuff. So we take that know-how and bring that to Washington DC. We're going to get this economy in a much better place for small business people and for middle class families.
On combatting false media narratives about Florida's education standards:
Those are criticisms in bad faith, because as you suggest, there's hundreds of pages of painstaking detail. This was done by black history scholars, most of whom were black themselves. They are not shilling for slavery, they are showing the injustice of slavery. But that particular passage wasn't saying that slavery was a benefit. They were saying there was resourcefulness, and people acquired skills in spite of slavery, not because of it, and then they used those when they achieved their freedom. Incidentally, Kamala Harris endorsed an AP African American History course, which we in Florida rejected because they had Marxist studies, they had other left-wing things in it that had the same exact provision. And you've seen that same basic provision had been in other curriculum. Nobody ever said anything. And indeed, nobody said anything about this. These guys put this together in a public fashion... most states don't even have black history standards. We're one of only 14 or 15 states. When we eliminated critical race theory, people lied then, saying we didn't want to teach about the history of African Americans. In reality, that same bill required us to develop even stronger standards, and that's why this working group was created. So they did a good job. I think it's wrong to demagogue people. And I think that a guy like me, I'm fighting back against false narratives. I do not let people like Harris or the media take false narratives and run with it. We will stand our ground and we will speak the truth.
Ron DeSantis, DeSantis Campaign Press Release - ICYMI: Governor Ron DeSantis on The Faulkner Focus Online by Gerhard Peters and John T. Woolley, The American Presidency Project https://www.presidency.ucsb.edu/node/364235