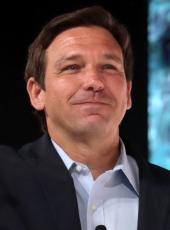 DeSantis Campaign Press Release - ICYMI: Governor Ron DeSantis Holds Virtual Press Conference with South Carolina Media
"For me to have gotten all these endorsements in South Carolina, given that you have your own politicians running, it shows that when people see us and what we've been able to accomplish, they come on board."
TALLAHASSEE, Fla. — Governor Ron DeSantis today hosted a virtual press conference with South Carolina media. The highlights are below.
Watch the full press conference HERE.
On his new slew of South Carolina endorsements:
As president, I'm going to be the one that would be most likely to actually get all the things we want done, from economy, to energy independence, to finally securing the border and taking on the drug cartels, to holding the medical swamp accountable, people like Dr. Fauci, for what they did during COVID. For fighting back against woke ideology and supporting parents rights and our school children, to reconstituting our military [and] getting them back to mission first, putting us in a position to be able to check and deter China, and then reining in the administrative state and ending the weaponization of government. We have the ability to put that out there in a way that nobody else can. And I think that there's a reason why we're seeing this galvanize support in places like the early states and for me to have gotten all those these endorsements in South Carolina, given that you guys have to have your own politicians running. I think that shows that when people see us, when they see what we've been able to accomplish, they come on board, and we're going to continue to build support. So I'm very optimistic about our pathway there.
On his momentum in the early states:
In terms of South Carolina, we've really enjoyed being there. Obviously we're going to be there a lot more. The calendar is a little bit different this year than in years past. You're going to have Iowa in mid-January, next week you're going to have New Hampshire, you have about a month before you have South Carolina. It's going to be a lot of campaigning in South Carolina. I think, clearly, candidates that don't do well in the first two states are not going to be viable at that point, and so I think it'll be very narrow by the time we get to South Carolina. We'll be one of the candidates that will be there, and we're going to be competing very, very hard. If you look at how South Carolina lines up, I'm a great candidate for the state. You look at the upstate region, these are voters that see a Governor like me who has produced and delivered results on the issues that they care about, that reflects their values, and [who] is somebody that that they can be proud of as a leader. If you look at some places like the low country, my wife went to College of Charleston, we've got a lot of roots in that area. Her sister is an Air Force pilot, and was stationed in Charleston. And so those areas - Charleston and Hilton Head and then even as you get into places like Myrtle Beach, we haven't been there yet, but those are great areas for us.
On his Declaration of Economic Independence:
On Monday, we announced our 10-point economic plan, which was really the most thorough plan that's been put forth in terms of dealing with the economy, and we've got a great platform to be able to do that. Since I've been governor, Florida's economy has outperformed every state in the nation, certainly all the big states. We're currently ranked as the number one economy in the country by CNBC. We're number one for new business formations. We're number one for net in-migration. We're number one for economic growth amongst large states. Our unemployment rate is a percentage point below the national average and even more [below] other large states like California and New York. And functionally in Florida, if you want a job, you can get it. We're also ranked number one in education by US News and World Report. No state income tax, which is a really good thing. Our crime rate is at a 50-year low. And since I've been governor, we've run big budget surpluses on an annual basis and have actually paid down almost 25% of our state's total accumulated debt. And so that's really the way that you build an economy.
Ron DeSantis, DeSantis Campaign Press Release - ICYMI: Governor Ron DeSantis Holds Virtual Press Conference with South Carolina Media Online by Gerhard Peters and John T. Woolley, The American Presidency Project https://www.presidency.ucsb.edu/node/364151