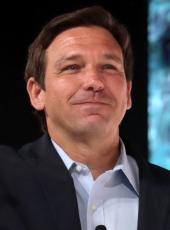 DeSantis Campaign Press Release - ICYMI: Governor Ron DeSantis and First Lady Casey DeSantis Join Ruthless LIVE! from Des Moines
"You have to earn this nomination and you have to show up."
DES MOINES, Iowa – Governor DeSantis and First Lady Casey DeSantis tonight joined the co-hosts of the Ruthless Podcast onstage for a live interview. The highlights are below.
Watch the full interview HERE.
On the importance of showing up to the debate:
You have to earn this nomination and you have to show up. You have to debate. You've got to be willing to answer questions. You've got to be willing to defend your record and you've got to articulate a vision for the future. I'm proud of what we've done in Florida. If you look at when I came in to where we are now, you know we're leading the way on so many different things and by the way, we used to say Florida was a swing state. Now people just assume it's a deep red state. That wasn't the case before I was there. You also have to say, 'Why are you running?' And I can tell you I'm running because this country is in decline. Simply managing decline isn't going to be acceptable. We have to reverse that decline. But doing that is not about me. It's about you, and it's about the American people. It's that agenda that matters. And I may be a vessel for that, I'm a leader, but ultimately, I'm running to do something. I'm not running to be somebody or because it's about me.
On his Day one actions as president:
We're going to have all the executive orders written before the first day. We're going to have all the legislation, we're going to have worked with the incoming Congress about what we want to do in the House, Senate with budgetary, all that stuff. We're going to have thousands of political appointees ready to go to to be able to send for confirmation. So we're not going to sit there and waste any time. You only get certain amount of time to strike while the iron is hot in our system. Those first 100, 150 days, every second of that is precious. So we will be ready on January 20, 2025 at high noon. Soon as we take that oath of office [and] give the speech, we're getting to work. We're going to take all of Biden's executive orders and regulations and throw him in the trash can on day one. We're going to declare the southern border a national emergency. We're going to mobilize the military, and I'm gonna handle these drug cartels if they're bringing product in. We're using deadly force against the drug cartels to hold them accountable, [and] take the initial actions such as replacing the director of the FBI.
On visiting all 99 counties in Iowa and campaigning with a young family:
We have our three kids, we have six, five and three, and we said we are going do all 99 counties in Iowa. That's something that's important. We're going to do it. They've campaigned with us, but they've never really done this whole bus deal. So we started taking them on the bus. We had all these places. So we've now done 32 [counties] of the 99. Tomorrow we're going to do another six counties, and we are probably going have all 99 by the end of October, and our kids get to experience this. We were in northeastern Iowa, we go to this Creamery, they have ice cream, cheese curds, all this stuff and our kids are just having a blast with it. We went to a state fair in Clayton County. Look, I'm a baseball guy all through my life through college. So I may have shown my kids a baseball movie about Iowa before we started coming up here. So we're out there and we have like 15 minutes to burn [before] we get back on the bus. There's just a field right next to all the corn, my son is five and he likes [baseball]. So we're playing catch right by the corn and he goes to me. 'Daddy is this heaven?' I said no son, it's Iowa.
First Lady Casey DeSantis on Casey's Breakfast Pizza:
I hadn't been to a Casey's. And no wonder why it's so good. You can see the similarities. But I had never had breakfast pizza, and they said you've got to try the breakfast pizza. I had one piece, [and] I ended up eating the entire pizza in the course of a morning. Then the other thing we really love is Pizza Ranch. The best fried chicken is at Pizza Ranch, the best pizza is at a gas station. You all have some good food.
Ron DeSantis, DeSantis Campaign Press Release - ICYMI: Governor Ron DeSantis and First Lady Casey DeSantis Join Ruthless LIVE! from Des Moines Online by Gerhard Peters and John T. Woolley, The American Presidency Project https://www.presidency.ucsb.edu/node/364239