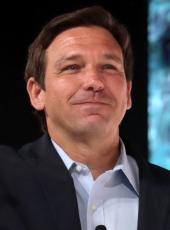 DeSantis Campaign Press Release - ICYMI: Governor DeSantis' Exclusive Sit Down with NBC's Dasha Burns
TALLAHASSEE, Fla. — Governor DeSantis and First Lady Casey DeSantis' exclusive interview with Dasha Burns aired tonight on NBC. Read the highlights below.
Watch the full Interview (Part 1 and Part 2).
Ron DeSantis on combatting Biden's border crisis:
"The cartels will use the children, and they will use the families to help camouflage the illicit activities. We have a statewide grand jury in Florida that's investigating all the illegal migration because we've had some come into Florida. They've actually found instances where a mother will basically rent out children to military age males because if you come in with a minor, it's better for you to do that than if you come in [alone]. What kind of a policy is this, that is incentivizing that type of behavior? What we're going to do [is] we're going to stop it. We're going to put Remain In Mexico back in. We are not going to accept bogus asylum claims. Right now, you come in, you do a bogus asylum claim, they give you a sheet of paper, come back in three years for a court date. How is that a disincentive to come illegally? And the thing is, yes, there's massive drugs killing people, sex trafficking, human trafficking, horrible. You do have criminal aliens coming across, but put all of that aside. The sheer number of people, communities are overwhelmed. We can't have, even if it was legal immigration, you can't have that much, that many people pouring into communities. It puts stress on schools. It puts stress on health care, criminal justice, the whole nine yards. So we'll stop it, we will actually build the border wall. We have good experience of getting things done in Florida, so we will do that. But I think being willing to lean in against the cartels is going to be the critical element."
Ron DeSantis on proving the naysayers wrong:
"If I had a nickel for every naysayer I've had in my life, I'd be a very, very wealthy man. And even as Governor, people didn't give me a chance to get elected governor in the first place. Then when COVID [happened], and we took a stand against the orthodoxy and kept the state free, I was pilloried. People said my career was over. I think about leadership- even my re-election, I had people a few months before the election saying, 'Oh, his campaign is sputtering, he doesn't know, they don't know what they're doing.' And we won the biggest Republican landslide in the history of the state. So we're productive. I would much rather be underestimated. When they underestimate you, that's when we're able to strike. And you know, I think that it's been something that when people see that you're willing to show up and work, that is not something that every candidate is willing to do. And we are doing it. We're going to earn the nomination, and we're going to get the job done."
Casey DeSantis on her battle with breast cancer and support from her husband:
"He was there for me. And he was there to go pick up my kids when I couldn't. And he did it with humility and he did it with love. And I'll tell you what, you can't ask for a better husband than that."
Casey DeSantis on why Governor DeSantis is the best candidate:
"I saw him standing up to people in Washington, D.C. who were telling him you're doing it wrong, you have to shut down the beaches, you have to lock kids out of school. So when you see that firsthand, and you understand the fight that he was taking, like why would I not be in this fight? Why would I not want to be out there singing from the rooftop that this is a good dude?"
Ron DeSantis, DeSantis Campaign Press Release - ICYMI: Governor DeSantis' Exclusive Sit Down with NBC's Dasha Burns Online by Gerhard Peters and John T. Woolley, The American Presidency Project https://www.presidency.ucsb.edu/node/364191