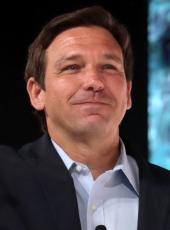 DeSantis Campaign Press Release - ICYMI: Florida Police Chiefs Association Endorsed Ron DeSantis for President
TALLAHASSEE, Fla. — The Florida Police Chiefs Association (FPCA) endorsed Governor Ron DeSantis for President of the United States. The FPCA sent out the following press release today, July 24:
"The Florida Police Chiefs Association (FPCA) today endorsed Governor Ron DeSantis for President of the United States of America.
FPCA president Keith Touchberry said, "The Florida Police Chiefs Association is honored to fully endorse Governor DeSantis for President of the United States of America. From his commitment to safe communities and defending the rule of law, to his unwavering support for the profession of law enforcement through better pay and recruiting bonuses, Governor DeSantis backs the blue."
FPCA 1st vice-president Charles "Chuck" Broadway said, "The Florida Police Chiefs Association is proud to endorse an extraordinary public servant like Governor DeSantis. His first responder recognition programs are making a difference, and we know he will take that same results-oriented approach to Washington."
FPCA 2nd vice-president Charlie Vazquez said, "Governor DeSantis cares about the men and women who risk their lives to protect the public, and he's demonstrated that concern by making sure agencies have the resources to recruit and retain the most capable, professional of?cers."
FPCA 3rd vice-president Robert Bage said, "With crime at a record 50-year low, Florida is a leader in public safety due to Governor DeSantis' steadfast support of our law enforcement officers. We look forward to continuing our work with him on behalf of the people of Florida."
More than 2,265 people, both new recruits and current officers from other states, entered the law enforcement profession in Florida by accessing Governor DeSantis's Florida Law Enforcement Recruitment Bonus Program. Governor DeSantis also led the effort during the 2023 session to fund a second round of recruitment bonuses and $110 million to provide one-time recognition bonuses for eligible local first responders."
In the News:
Florida Politics: Florida Police Chiefs Endorse Ron DeSantis for President
Florida's Voice: DeSantis endorsed by Florida Police Chiefs Association in presidential bid
Washington Examiner: Trump loses law enforcement endorsement he had in 2020 to DeSantis
Background:
Also, in June 2023, The Florida Police Benevolent Association (PBA) announced their endorsement of Ron DeSantis for President.
Florida PBA President John Kazanjian said:
"In major cities and communities across America, many Americans are grappling with increased crime rates that not only jeopardize public safety, but also threaten the quality of life in their communities. The ideological experiment of defunding the police and scapegoating law enforcement for America's social problems has failed. Now more than ever, Americans must elect the one candidate for president who has a proven track record in enhancing public safety and investing in the essential men and women who help maintain public safety every day. For the over 30,000 men and women in the Florida Police Benevolent Association, the choice for us could not be clearer. Governor Ron DeSantis and his administration have made Florida a law-and-order state, by investing in and supporting the thousands of law enforcement officers, who serve on the front lines in keeping our communities safe and secure. From investing over $100 million dollars to increase the salaries of state law enforcement officers to recruiting the best men and women across the country to join our ranks, to investing $20 million to local law enforcement agencies to support their battle against the Fentanyl epidemic, to toughening the penalties for major crimes, Governor DeSantis has made Florida a destination for all Americans to live safely and freely. He is one of the most effective Governors in the nation and he will take his proven track record to the White House, where he will continue to have the backs of law enforcement officers and make public safety a top priority. For these reasons, the Florida PBA is proud to endorse our Governor, Ron DeSantis, for President of the United States and we will do all that we can to help him prevail."
Ron DeSantis, DeSantis Campaign Press Release - ICYMI: Florida Police Chiefs Association Endorsed Ron DeSantis for President Online by Gerhard Peters and John T. Woolley, The American Presidency Project https://www.presidency.ucsb.edu/node/364234