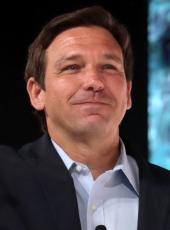 DeSantis Campaign Press Release - DeSantis Vows to "Usher in A Reckoning" of Accountability on Those Who Pushed Draconian COVID Policies
He Blasted the Trump White House COVID Task Force for 2021 letter pressuring Florida to impose COVID mandates and restrictions
DeSantis Vows to "Usher in A Reckoning" of Accountability on Those Who Pushed Draconian COVID Policies He Blasted the Trump White House COVID Task Force for 2021 letter pressuring Florida to impose COVID mandates and restrictions
TALLAHASSEE, Fla. – In the wake of the left's recent push to bring back COVID mandates and medical authoritarianism, Ron DeSantis today held a press conference in Jacksonville, Florida where he vowed to fight back and bring a reckoning to the biomedical establishment.
"I will usher in a reckoning for those who devised the failed and destructive biomedical policies that caused damage throughout our country, because until there is accountability they will try to do it again," said Ron DeSantis.
During the event, DeSantis also highlighted how he rejected pressure from the Trump administration to force COVID-19 mandates in Florida.
"For months, May of 2020, summer of 2020, fall of 2020, even January of 2021, I was getting hit by the White House Task Force under Trump," said Ron DeSantis. "This wasn't even Biden, this was Trump. January of 2021, weeks before he left office, they were sending us missives to Florida saying 'impose a mask mandate and close bars and restaurants and businesses.' And that's what they were pushing. And that was pretty much uniform throughout the political and bureaucratic sphere, and it was driven by people like Fauci with no regard for what that might mean for people's livelihoods. And so we had to be the ones to stand in the breach on that, and I just look at somebody like Fauci, you know, part of the problem with our country is that bureaucrats like him have been coddled, they've been put on a pedestal. I think the way you treat bureaucrats like Fauci is, you tell the 'you're fired. Get lost.' That's what you need to be doing."
Read more from the Washington Examiner below.
Trump White House urged DeSantis in letter to reimplement masking in Florida
Julia Johnson
September 7, 2023
Former President Donald Trump's administration told Gov. Ron DeSantis (R-FL) to reinstitute masking and social distancing in Florida in 2021, months after the governor had reopened the state.
In a letter obtained by the Washington Examiner, Trump's White House Coronavirus Task Force warned DeSantis's administration that "aggressive mitigation must be used," including "uniform implementation" of 2-3-ply well-fitting masks and "strict physical distancing."
A new rise in COVID-19 cases has prompted calls to reinstate masking and other mitigation measures, which in turn has renewed the debate over which Republican handled the initial virus response better.
DeSantis had lifted all COVID-19 restrictions on businesses and restaurants in Florida and banned fines for not wearing a mask in September 2020, months prior to the letter.
In a radio interview with Hugh Hewitt on Wednesday, Trump slammed DeSantis's COVID-19 handling, saying, "He shut down Florida. It was tight as a drum. He had vax lines. He was vaxxing everything. Now, he talks about the vaccinations this and that."
But in the letter sent to Florida from Trump's task force, DeSantis was told, "Do not delay the rapid immunization of those over 65 and vulnerable to severe disease."
It further advised "active and aggressive immunization."
The letter also instructed the state on "maintaining public confidence and maximizing vaccine acceptance" to address "persistent vaccine-hesitancy."
During Trump's interview, he further told Hewitt, "[DeSantis] said he wouldn't let anybody come in. He shut down his beaches. He shut down the entire state."
"He has a selective memory," Trump continued. "He shut down. [Gov.] Henry McMaster didn't shut down South Carolina. [Gov.] Kristi Noem didn't shut down South Dakota."
However, the Trump administration's report to DeSantis advised in January 2021, "Florida must increase both statewide and local public mitigation. Increase communication around the importance of personal mitigation with masking, physical distancing, and avoiding family gatherings."
Despite pressure from Trump's White House and its medical adviser, Dr. Anthony Fauci, DeSantis did not reimplement COVID-19 measures and fought off mask mandates in schools later in the year.
Trump's campaign did not provide comment to the Washington Examiner.
As the pandemic subsided, Florida was praised by the Right for his COVID-19 response, wherein he emphasized individual freedoms and stood against mandates. His response paid off, because in the midterm elections, he sailed to a landslide reelection, carrying Republican candidates across the state to their own electoral wins.
The issue hasn't been a significant talking point in the 2024 primary campaign because COVID-19 has generally been dismissed due to its diminishing prevalence. But now, cases are on the rise. In fact, first lady Jill Biden contracted the virus this week, prompting the president to begin masking indoors despite testing negative. Talk of safety protocols such as masking and social distancing has been renewed, with Fauci recently telling CNN, "I am concerned that people will not abide by recommendations."
"I would hope that if we get to the point that the volume of cases is such and organizations like the CDC recommends, CDC does not mandate anything, recommends that people wear masks, I would hope that people abide by that recommendation and take into account the risks to themselves and their families," he said.
DeSantis's 2024 campaign is hoping to use the new discussion around COVID-19 to point to his record on the subject, which was popular among Floridians.
On Wednesday, the governor posted a video on social media highlighting his response to the virus, telling viewers that if elected, "I will usher in a reckoning for those who devised the failed and destructive biomedical policies that caused damage throughout our country, because until there is accountability they will try to do it again."
Ron DeSantis, DeSantis Campaign Press Release - DeSantis Vows to "Usher in A Reckoning" of Accountability on Those Who Pushed Draconian COVID Policies Online by Gerhard Peters and John T. Woolley, The American Presidency Project https://www.presidency.ucsb.edu/node/364725