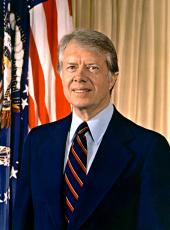 Departments of State, Justice, and Commerce, the Judiciary, and Related Agencies Appropriation Act, 1979 Statement on Signing H.R. 12934 Into Law.
Today I have signed H.R. 12934, which makes appropriations for the Departments of State, Justice, and Commerce, the judiciary, and related agencies.
Although I have signed this appropriation bill, I strongly oppose a provision which compromises this Government's ability to fulfill its legally binding financial obligations to the United Nations and its specialized agencies. The Congress has enacted unacceptable prohibitory language in reducing the appropriation for "Contributions to International Organizations" by declaring that no part of the appropriation "may be made available for furnishing of technical assistance by the United Nations or any of its specialized agencies." If allowed to stand, this action would cause the United States to violate its treaty obligations to support the organizations of the United Nations system. Withholding of, or assigning conditions to, U.S. contributions to assessed budgets of these organizations would make it virtually impossible for these organizations to accept such contributions, would seriously impair their financial and political viability, and is contrary to the policy of collective financial responsibility continuously advocated by this Government since establishment of the United Nations system.
This precedent would also weaken the ability of organizations of the United Nations to withstand efforts by other governments to impede their effective work. The United States has consistently opposed the Soviet Union's withholding of its assessed contributions to those programs of the United Nations which the Soviet Union has found politically unpalatable. Our efforts to stem such politicization of organizations of the United Nations would be severely weakened if the action of the Congress is allowed to stand.
Accordingly, I intend to recommend promptly to the Congress the restoration of funds for this appropriation and the elimination of the language which jeopardizes our ability to support these international organizations. It will be important that the Congress respond positively to my recommendation so this Government can meet its clear obligations under the United Nations Charter and related treaties.
Note: As enacted, H.R. 12934 is Public Law 95-431, approved October 10.
Jimmy Carter, Departments of State, Justice, and Commerce, the Judiciary, and Related Agencies Appropriation Act, 1979 Statement on Signing H.R. 12934 Into Law. Online by Gerhard Peters and John T. Woolley, The American Presidency Project https://www.presidency.ucsb.edu/node/243901