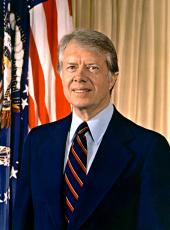 Department of Labor Remarks at the Dedication of the Frances Perkins Building.
Thank you, Ray, for your introduction and a chance to be here on this delightful occasion.
Susanna and Tomlin Coggeshall, Senator Levin and other distinguished guests, ladies and gentlemen:
This is a beautiful day in Washington, and I think it's the kind of day that can open our hearts to one another and also to the significance of this occasion.
Looking back at the history of our Nation, it's significant that from time to time there came upon the American scene an outstanding and courageous and farsighted and sensitive human being who literally transformed for the better the life of all Americans. Nobody deserves this ceremony and this honor more than Frances Perkins.
We can be proud to name the Department of Labor Building after one of America's most remarkable public servants, who was also a strong advocate of social and economic justice, as we all know. We should also remember that this dedication is a token of our appreciation and the payment of an enormous debt to her, on the 100th anniversary of her birth.
In her life Frances Perkins saw our Nation transformed from official indifference to one which was mobilized to fight for and to cherish the fights of American working people, the well-being of the poor and the elderly, individual human rights, and world peace. She was a witness to momentous change, and she was a prime agent of that change. She helped to carry out a remarkable revolution, a revolution which did not abolish our institutions or our way of government; instead, she noted, it was a revolution of a change in habits—our habits of thought and our habits of acting.
Many of us know the details of her life: her work with Jane Addams in the Settlement House, the Triangle fire, her central role in the New Deal, the first woman ever to serve in the Cabinet, and the longest tenure of any Secretary of Labor before or since—certainly up until the present time, Ray. [Laughter] In those years she was known as Madame Secretary, and the whole country knew her by that title. She once earned the compliment that she is "the best man in the Cabinet," and she savored the irony of that comment.
Few people who have served in this Nation have touched our lives more directly. The social programs which we take for granted now have come from her struggles and from her achievements. She called the Social Security Act "the measure which is nearest to my heart." She was its chief architect and its chief advocate. Social security, the minimum wage, overtime pay, unemployment compensation,. the Works Progress Administration, the Civilian Conservation Corps, the tint Federal requirements for workplace safety, and an end to job discrimination-these were just a few of her many accomplishments.
She was intensely devoted to the New Deal. Its idea, she said, and I quote, was that "all the political and practical forces of the community should and could be directed to making life better for ordinary people." She knew how to get that done, and she did.
She firmly believed in democracy in its strictest definition sense. And she once said that the way to run the country is to let the people move and follow their own good sense. The people as you know, did not let her down.
Her ideas, many of which were once thought to be radical, have become part of our basic social fabric; they have become now our ideas. She did not demand reforms overnight, but she understood the ebb and the flow of history, in which justice sometimes advances slowly. She took to heart Franklin Roosevelt's conviction that the trend of civilization itself is forever upward. "A line drawn through the middle of the peaks and the valleys of the centuries," he said, "always has an upward trend."
Finally, in her last years, the early 1960's, she witnessed another upwelling of the American conscience—the civil rights movement and the beginnings of the Great Society. These efforts and our efforts today vindicate her optimism, that despite the peaks and valleys of history, we are proceeding upward.
Underlying the good works of Frances Perkins was a deeply religious spirit. She believed it was our obligation to God to seek social and economic justice. She worked with people of all faiths to carry out that obligation, which she felt so deeply.
In recent years it has been fashionable among some to disavow the New Deal and the Great Society as being out of date. Some problems have changed, certainly, and we must constantly search for new approaches. But let none of us forget what the New Deal accomplished, that it transformed the face and the heart of America, that its basic tenet is one of an active government. And it's just as valid today as it was then. We know that our future is full of its possibilities still.
I grew up in a region that was dramatically affected by the New Deal. I was 14 years old when TVA and REA let us have lights in our home and ease the drudgery, from before sunrise to after sunset, of the life of almost all American farmers. I saw those programs and others, like social security and housing and public works, give new life and new hope to millions of Americans.
In later years, I saw civil rights legislation and court decisions and the Great Society programs further transform life in the South, where I live. That progress is obviously not unique to any one section of our country. This is a rich legacy of accomplishment and an obligation to continue the work which was begun five decades ago.
I'm proud to be among the Presidents who have taken this obligation seriously, and I reconfirm my own commitment to the social and the economic justice and the idealism to which Frances Perkins devoted her life. Let us remember her for a lifetime of service, but let us also remember her by carrying out the ambitions and the painstaking work that she set out for us to accomplish. This would indeed be the highest form of gratitude that we could express to this remarkable woman, who served all of us and our Nation so well.

Thank you very much.
Note: The President spoke at 11:20 a.m. on the steps of the Frances Perkins Building. In his opening remarks, he referred to Secretary of Labor Ray Marshall and Susanna and Tomlin Coggeshall, daughter and grandson of Frances Perkins.
Prior to his remarks, the President, Senator Carl Levin of Michigan, and Mrs. Coggeshall assisted Secretary Marshall in unveiling a replica of the plaque dedicating the building to the memory of Frances Perkins, Secretary of Labor from 1933 to 1945. The plaque will be placed at the Third Street ceremonial entrance to the building.
Jimmy Carter, Department of Labor Remarks at the Dedication of the Frances Perkins Building. Online by Gerhard Peters and John T. Woolley, The American Presidency Project https://www.presidency.ucsb.edu/node/250574