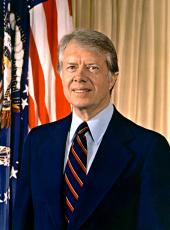 Department of Labor Nomination of Roland R. Mora To Be a Deputy Assistant Secretary.
The President today announced that he will nominate Roland R. Mora, of Mission Viejo, Calif., to be Deputy Assistant Secretary of Labor for Veterans' Employment. Mora is a consultant to the Secretary of Labor on veterans affairs.
Mora was born March 26, 1938, in Albuquerque, N. Mex. He received a B.A. in international relations from the University of Southern California in 1961.
He served in the U.S. Marine Corps from 1961 to 1969, as regimental intelligence officer of the 3d Marines in Vietnam in 1964-65. Between 1965 and 1967, he served as a line company commander with the 2d Marines at Camp Lejeune, N.C., and with the 2d Medical Battalion as company commander of Headquarters and Service Company and marine adviser to the naval commanding officer.
Between 1967 and 1969, Mora served with the Marines in Washington, D.C., as assistant operations officer of Headquarters Battalion and subsequently as commanding officer of Headquarters and Service Company. He retired, disabled, as a captain in 1969.
From 1971 to 1976, Mora was general manager of Moraco Investment Co. He was also a worker and organizer for the United Farm Workers from 1974 to 1976 and a precinct organizer for Father Boyle's campaign for the California Assembly in 1974.
Mora worked on the Carter Presidential campaign in 1976, in the California campaign during the primaries, and on the national advance staff during the general campaign. In 1977 he worked as a special assistant to the Secretary of the Air Force at the Board for Correction of Military Records.
From 1970 to 1976, Mora was a counselor, adviser, and lecturer on alcoholism and drug abuse rehabilitation panels at youth groups, hospitals, prisons, and halfway houses. From 1974 to 1976, he was liaison/adviser to the U.S. Navy Physical Fitness Program.
Jimmy Carter, Department of Labor Nomination of Roland R. Mora To Be a Deputy Assistant Secretary. Online by Gerhard Peters and John T. Woolley, The American Presidency Project https://www.presidency.ucsb.edu/node/243490