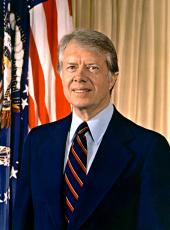 Department of Justice Remarks at the Swearing In of Benjamin R. Civiletti as Attorney General.
THE PRESIDENT. It's indeed a pleasure and an honor for me to be here in this assembly with Griffin Bell and the other members of the establishment. [Laughter]
As a fellow Georgian, I was hoping that Griffin would survive the screening process in the Cabinet recently. [Laughter] But I think it's accurate to say that this is a time of reassessment and of congratulations and of looking to the future. Griffin has certainly made this a nonpolitical organization. He proved that with his interview with the press recently. As a matter of fact, along with the Chief Justice, Griffin has always had a superb record in getting along with the press. [Laughter] Griffin has gotten more mileage out of rooster pepper sausage than I did out of the Middle East peace treaty, as a matter of fact. [Laughter]
In 1976, after I was elected President, I called on Griffin Bell to help me with the screening process for Cabinet officers because of his judgment, his integrity, his intelligence, his experience, and because as a long-time friend, I bad absolute confidence in him. I finally decided that there was no person in this Nation better qualified to be Attorney General than Griffin Bell. It was one of the wisest decisions that I have ever made, and I want to express my thanks to him.
He was my friend then and now; but he's become a friend of the Nation, he's become a man who has earned the trust and confidence and appreciation of all those who look on the Department of Justice as a source of fairness and equity and sensitivity and compassion. And I'm deeply grateful to him for that as well.
He's brought to this Department, to his position as Attorney General, a sense of absolute integrity, of professionalism and of merit, and of justice in the finest and most all-encompassing meaning of the word.
When he arrived here, there were some difficult cases whose resolution had been long postponed. He has helped to clear up those difficult cases in a, proper way. He's brought into his own top staff, his deputy and others, the Director of the Federal Bureau of Investigation, people who share and perhaps even equal his own superb characteristics.
Griffin mentioned to me a few minutes ago that he and I together have assessed, and I have already personally approved, 232 Federal judges. And by the time the process is over and the next 22 judges have been identified and approved by me, this will encompass 40 percent of all the Federal judges who serve in this country.
The selection has been made strictly on the basis of merit, with adequate attention to affirmative action—and that is apparently a conflict. But under Griffin Bell it has not been a conflict, because as we've moved out and explored the identity of those who could serve superlatively as Federal judges, among women and among representatives of minority groups who have suffered from discrimination for too long, we have never deviated from the highest possible standards of merit. And I'm deeply grateful for that achievement of the Attorney General as well.
With the ceremony today, I express my gratitude to Attorney General Griffin Bell, my regrets that he has decided to leave this post, my confidence that he will continue to help me and this country in the future to perpetuate what he's initiated here, and also to express my gratitude to the man who will be sworn in today, Benjamin Civiletti.
Under Ben Civilertti, as the new Attorney General, we will build on the standards of excellence that have been established here in the Justice Department. He will be the highest law enforcement officer in our land, entrusted, with complete confidence, with the responsibilities which I have just described so briefly: integrity, compassion, sensitivity, fairness, equity, justice as a tangible thing, but also an accurate image of it, because the people of our country, particularly those who are poor or inarticulate or deprived must have an accurate sense that the system of justice works for them and not against them. And there is no doubt in my mind that Benjamin Civiletti is eminently qualified to have both the substance of justice and an accurate image that our Nation's Government represents the essence of fairness and justice for all.
He's a courageous man, and this is a job that requires courage. And I'm very deeply grateful to him for being willing to serve.
I look forward to the ceremony, now imminent, wherein the Chief Justice of the United States will give the oath of office as Attorney (general to a line and distinguished public servant who has already proven his qualities to be exemplary, Ben Civiletti.

Thank you very much.
ATTORNEY GENERAL BELL. We are deviating from the program .just the slightest bit, Mr. President.
Thank you for your remarks. We all work for you. You are really, under the Constitution—you are the Attorney General. The President, under the Constitution, is the only person charged with the duty to faithfully execute the laws. And so, as Attorney General, and as others here at the Department, our job is to assist the President in faithfully executing the laws.
Chief Justice Burger is a great friend, if not the greatest friend in our country of judicial administration. He honors us today with his presence, and before we have the swearing-in ceremony, he wants to say a few words.
CHIEF JUSTICE BURGER. Thank you, Mr. Attorney General.
Mr. President, Mr. Attorney General-to-be, Mrs. Civilertti:
I accepted the Attorney General's invitation to make a few brief remarks because I thought it might help to remind all the young lawyers in the Department of Justice that this is a pretty good place to start. It is 26 years ago that I began here, and I retain the fondest recollections of this great Department.
From the time I was a student up to the present, and when I was a student, my fellow townsman, William D. Mitchell, was appointed Solicitor General first, and then Attorney General. From that time down to the present, I have met or known, and very often known well, every Attorney General of the United States.
There has been no finer man—and I can echo the President's praise of Griffin Bell—there has been no finer man, no man more dedicated to professional excellence and professional integrity, and a fair administration of justice, than this man who has been my friend and colleague for many years, and I salute him and congratulate him on the splendid administration he's given this great Department of Justice.
And now, Mr. Civiletti, are you prepared to take the oath of office?
[At this point, Chief Justice of the United States Warren E. Burger administered the oath of office.]
ATTORNEY GENERAL CIVILETTI. Mr. President, Mr. Chief Justice, Mr. Vice President, former Attorney General Bell- [laughter] —Mrs. Bell, Senator Thurmond, Chairman Rodino, Mr. Dunlap, 1 distinguished guests and officials in the Government, fellow Cabinet members, Senators, outstanding Italo-Americans, members of my former law firm, which I see back there, and friends and fellow employees, men and women in this great Department:
First, I would like to introduce all of you to the people who have been most important in my life. You know one of them already, Gall Civilertti. I'm privileged to have my mother and father here today, Ben and Virginia Civiletti. Would you please stand? My sister, Pamela Habet. Would you please stand, Pam? My children—Ben Civiletti; Drew Civiletti, the famous Oriole baseball commentator; and Lynn Civiletti.
1 Georgia attorney James Dunlap, who headed a group which presented the Department of Justice with the official portrait of Attorney General Bell. The portrait was unveiled at the swearing-in ceremony.
As the President has said, I will attempt to follow and to build on the great work that Attorney General Bell has done in this Department, as he in turn built on the foundations that were laid by Attorney General Levi. And we are aided in that process, he in his work and I will be in my work, by the fact that there are men and women in the Department who have not only been here under Attorney General Levi and Attorney General Bell, but will be here under Attorney General Civiletti, and probably many of his successors.
The leadership changes—and we can assist or accelerate, or in some sad instances, we can .detract from the Department-but the heart and soul of the Department of Justice are the career men and women and lawyers who are here, year in and year out, of high competence, great ability, integrity, and little recognition. And I recognize them and believe that they truly represent the finest in the traditions which the President has mentioned.
The themes that Attorney General Bell, seems to me, has followed, and which I have had only a small part to play in developing, but which I believe in, are, one, the access to justice, increasing it, developing it, strengthening it; the professionalism and training, the competence of the lawyers, the staff, paralegals within the Department in every possible way; and, thirdly, what the President mentioned to me when he asked me to become Attorney General: the independence and integrity of the Department-as Judge Bell says, the neutral zone concept with regard to the initiation and handling of cases.
The President said that he thought one of the most important legacies of his administration to the American people would be that concept of independence and integrity of the Department of Justice in the handling of prosecutions and cases and investigations, and that he was extremely proud of Judge Bell's work in developing, strengthening that concept which has been with the Department for many, many years. And he was confident that I could carry it forward.
Of course, there are a few refinements or modifications, things that I will perhaps do somewhat differently, additional themes that I will stress. Within those themes and beyond them, I think one of the most important functions within the Department of Justice, within its many functions and duties and responsibilities, is to represent well not only all citizens of the United States but to represent the disadvantaged, whether they be minorities, handicapped, the aged, those who cannot well represent themselves, who, without the Department of Justice and the Government to look for their rights with care and attention, they will lose their rights or not know of them or not be able to exercise them.
Secondly, I believe in strong and effective law enforcement. If the Attorney General is not an advocate for strong and effective law enforcement, who can be? It is vital not only to protect public safety and the lives and property of all persons but also to safeguard the social environment just as we must protect the physical environment, because only through effective enforcement and the resulting achievement of public safety and peace can our society truly and fully engage in the pursuit of happiness.
In addition to making possible the exercise and enjoyment of all other rights, the pursuit of the right and the enforcement of personal safety and freedom from crime does not require compromise or sacrifice of constitutional rights or civil liberties. As the Department of Justice's proposed legislative charter for the FBI-which is a dominant goal and priority of our efforts in Congress—just as it demonstrates, strengthening law enforcement and enhancing civil liberties are consistent and complementary and mutually supportive goals.
Third, a mission and duty within the Department, which is primary, is the protection and the defense of the free enterprise system, preservation of competition. And I'm happy to say that I think we're alive and well in that regard under John Shenefield's leadership of the Antitrust Division.
I think that the progress we've made in increasing the confidence and the tools by which the men and women of the Department are able to undertake these tasks has been remarkable. With the Attorney General's advocacy institute, with training programs throughout the Department of Justice, we are now training, in 1 year, more lawyers, more paralegals, more investigators than, 3 years ago, we were training in 4 years. But I think we have a way to go. We must work faster, we must decide cases and investigate them thoroughly, but with expedition—justice delayed is justice denied. And we must have the courage to end cases, to end investigations, whether it be through successful and vigorous prosecutions, or be it in closing a case that does not merit the exercise of the prosecutorial or the civil power to bring suit.
I want to thank my staff in the Deputy Attorney General's Office. I selected it over some period of time. Some people wondered if I'd ever get a staff together. But I did it with care, and they have worked with diligence, with my total respect and confidence, and they have performed, day and night, any task, either which they thought needed doing or which I assigned to them. They have kept me from many errors, and since you all know the errors I've made, you know what a hard job they've had and how well they've done.
By the way, there's an opening on that staff. The Deputy Attorney General slot is open. I don't suppose you'd be interested, Judge Bell? [Laughter] We need a good person in that job, a good right hand. Do a service to your country. [Laughter] You don't have to commit to more than about a year-and-a-half or 2 years or so. [Laughter]
Good to see two outstanding Italian American citizens on the stage, Chairman Rodino and Vice President "Mondali." [Laughter] I always thought that was spelled with an "e."
And it's particularly pleasing to see here on the stage Senator Thurmond, the ranking Republican on the great Senate Judiciary Committee, before whom I've had the privilege of appearing three times. I won't go into the number of hours that I have devoted to the Judiciary Committee. I'm pleased that I will not be appearing, at least in a confirmation proceeding, ever again before them. I look forward, though, to appearing before that committee on many matters of importance to this Department and to this country. On every occasion, Senator Thurmond has treated me, as well as all others who I've witnessed appearing before that committee, with great dignity and great respect, as well as with some vigor.
My view of the Department and my view of the mission of the Attorney General can, in part, be summed up by this quote from President Madison in the Federalist No. 51. "It is of great importance in a republic not only to guard the society against the oppression of its rulers, but to .guard one part of the society against the injustice of the other part ....

Justice is the end of government. It is the end of civil society. It ever has been and ever will be pursued until it be obtained, or until liberty be lost in the pursuit."
I thank you, Mr. President, for giving inc the opportunity to share with the men and women of the Department of Justice in the pursuit of justice. Thank you.
I now have the privilege of introducing Senator Strom Thurmond, whom I mentioned earlier, and whom all of us in the Department of Justice rely on and trust and respect.
Note: The President spoke at 11:07 a.m. in the Great Hall at the Department of Justice.
The press release does not include a transcript of Senator Thurmond's remarks.
Jimmy Carter, Department of Justice Remarks at the Swearing In of Benjamin R. Civiletti as Attorney General. Online by Gerhard Peters and John T. Woolley, The American Presidency Project https://www.presidency.ucsb.edu/node/250275