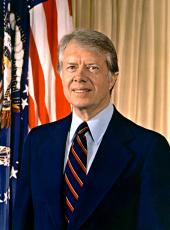 Department of Health, Education, and Welfare Nomination of Thomas D. Morris To Be Inspector General.
The President today announced that he will nominate Thomas D. Morris to be. Inspector General of the Department of Health, Education, and Welfare.
Mr. Morris, a senior staff member of the Brookings Institution with nearly 40 years of management experience, would be the first person to hold the Inspector General position, created by Congress last October. He will report both to HEW Secretary Joe Califano and to Congress.
The resources that Mr. Morris will have under his authority include 1,000 auditors and 100 investigators. He will be allocated more manpower if he needs it. He will also work with and guide the presently existing Quality Control Staff in the various HEW components.
His mandate is twofold, to investigate fraud and abuses of HEW programs and to bring economy and efficiency to the agency.
Initially, he will focus his attention on the broad area of health care services and the student loans program administered by HEW.
Mr. Morris was born in Knoxville, Tenn., on April 19, 1913. He received a B.A. from the University of Tennessee in 1934. Between 1936 and 1970, Morris spent 20 years as a methods and procedures specialist and consultant in the private sector, including serving as vice president of Dart Industries in 1970 and vice president of Litton Industries in 1969.
From 1942 to 1945, he served in the Office of the Secretary of the Navy, and. attained the rank of lieutenant commander. In 1956 and 1957, he was Deputy Assistant Secretary of Defense, and Assistant to the Deputy Secretary. In 1960 he was Assistant Director of the United States Bureau of the Budget for Management and Organization.
From 1961 to 1968, he served as Assistant Secretary of Defense in charge of the Defense Department's cost reduction program and procurement operations.
Morris was Assistant Comptroller General of the United States from 1970 to 1975, responsible for internal management programs of the 5,000 member staff of the General Accounting Office. He also supervised audits and investigations of the management operations of all Federal agencies.
From November 1975 to February 1976, he was assistant secretary for administrative services in the Florida Department of Health and Rehabilitative Services, and assisted in the reorganization of the 30,000 member department. In 1976 he joined the staff of the Brookings Institution.
Jimmy Carter, Department of Health, Education, and Welfare Nomination of Thomas D. Morris To Be Inspector General. Online by Gerhard Peters and John T. Woolley, The American Presidency Project https://www.presidency.ucsb.edu/node/242944