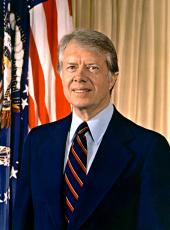 Department of Energy Remarks at the Swearing In of Charles W. Duncan, Jr., as Secretary.
THE PRESIDENT. There's no way to overemphasize the importance of this event, because of the significance to every American, in fact, every person, almost, throughout the world, accrued from the performance of duty as Secretary of Energy.
Fifteen years ago, the average American didn't think much about the problems that might arise from the energy question or the energy situation. But recently, in the last few years, this has become a burning issue for every person.
Our country has been well served, and 1 would like to ask James Schlesinger first to come to the stage.
No one who hears my voice could argue with the statement that Jim Schlesinger is a man of intelligence, competence, and also the utmost integrity. He's a man who served our Nation well in one of the most difficult jobs imaginable, that is, the formation of and the administration of the Department of Energy. He's done this to the credit of himself, my own administration, the United States Government, and the people of our country.
In addition to that, he has served well in other posts of extreme importance to our country. In time of peace and in time of war, Jim Schlesinger has always been available to a President who needed his superb capabilities to meet a difficult issue or to answer difficult problems or to solve difficult questions.
Jim has been the Secretary of Defense, as you well know, and his statements then and his actions, his recommendations have proven in the last few years of recent history to have been wise and sound.
I particularly want to congratulate him for his service as our chief intelligence officer when he was Director of Central Intelligence.
In 1953, President Harry Truman initiated an award which I would like to make to Jim Schlesinger. This is the National Security Award, given to a person who has contributed notably to our Nation's security in the intricate, highly secret realm of intelligence. I'd like to read the citation:
"The United States of America to all who shall see these presents, greeting. This is to certify that the President of the United States of America has awarded the National Security Medal to James R. Schlesinger for outstanding contribution to the national intelligence effort. Given under my hand in the City of Washington, this 24th day of August, 1979." Signed Jimmy Carter, President of the United States of America.

Jim, congratulations to you.
I see an expression of approval and appreciation on the faces of those who serve the ceremony, and I see an expression of relief and anticipation on Jim Schlesinger's face— [laughter] —as we approach the next ceremony.
One of the very early acts of my unofficial life after I was elected President was to invite Jim Schlesinger to come down to Plains and talk to me about the very serious problem that our Nation was experiencing in not having a national energy policy, in having more than 50 separate agencies of the Federal Government responsible for the administration of various, sometimes conflicting energy laws. We didn't have a Department of Energy, and I have to tell you that it was not Jim Schlesinger's first choice as a Cabinet officer to be the Secretary of Energy. He recognized the complexity and the challenge of it, and also the uncertainty of proposing to the Congress the creation of a major new Cabinet-level department. But he agreed to serve, and he has served well.
Last November after a year and half of intense effort in the Congress, we had approved about 65 percent of the energy legislation that had been proposed. At that time Dr. Schlesinger came and said that he thought it was time for him to step down since he had done that job, that he had scars on him from all directions and that he thought it was time for someone, perhaps, to take over with a fresh approach, and I asked him to stay on longer.
Last January, he came back to me at the beginning of the session and said, again, that he was ready to step down, that he thought he had done his job as well as he could. Since we had not passed any legislation then or even evolved a followup proposal concerning oil, I asked him to stay again until we could evolve a program concerning oil and avoid the increasing delay that was hurting our Nation at that time. He agreed to do so. And now that we've proposed to the Congress a very fine proposal for dealing with the oil issue, I have finally agreed to let Jim Schlesinger step down in this post.
Obviously the choice of his successor is one that has been a very important one for me, and I've chosen someone who fulfills every possible requirement for the job. This is an issue that is becoming of ever more important consideration for Americans.
When I made my Sunday evening speech July 15th, I said that the strength of America lay ultimately in the inexhaustible resource of the American people.
I've just finished a 7-day trip down the Mississippi River, and I have been reinspired with the commitment of Americans to deal in a confident way with the future, to unite among themselves, to conserve energy to the utmost of their own ability and also to see hammered out here in Washington a comprehensive series of legislative proposals that will give us a sound basis for a complete energy policy in the future.
There is no limit, in my opinion, to what we in our country can do if our people are united. I've just written all 6,000 chief executive officers of the cities and towns and counties of our Nation. Many have acted on their own initiative; more will do so in the future.
Our energy security is threatened. As you know, we still import too much oil from foreign countries, about half the oil that we use. So, we must conserve; we must produce more oil and other forms of energy in our country—solar energy; we must also increase, as you know, the production of geothermal supplies, synthetic fuels, including gasohol; make sure that nuclear power is produced in a safe fashion; and insist upon a better transportation system and a means by which we can deal with the poor families, who are especially afflicted by the rapidly increasing and uncontrollable cost of oil.
The inflation figures issued just in the last few hours, when broken down by component parts, show that about one-half of the increase in our inflation rate is caused by increase in energy costs. This is such a challenging and complex issue that we absolutely must have the finest possible administrator for this increasingly important position.
I think the prices of oil and gas must go toward the market price. We have taken steps in the Congress to decontrol the prices of both natural gas and oil in a carefully phased, predictable way. This has resulted and is resulting in a fairly rapid increase in the cost of energy to mirror worldwide considerations over which we have no control.
f know that many of you here today represent the energy industry, and I would like to call on you this afternoon to put aside differences and to join with me and with the new Secretary of Energy and with the Members of Congress in supporting the proposals that we have laid before the Congress for the benefit of our country. I would like to ask the representatives of the oil and natural gas industry, and others, to support the windfall profits tax, which has been carefully devised for equity and fairness, which will give us a basis for becoming more energy secure.
I know that you have and all Americans have a great confidence in Charles Duncan, who will now be sworn in as Secretary of Energy. He has served in the most distinguished way in the private enterprise system of our country, a superb manager, sound judgment, great intelligence, a good educational background, one who understands the complexities of our social and economic system throughout this country. In addition to that, in Government, he has built an admirable record as a Deputy Secretary of Defense. His own boss, the Secretary of Defense, Harold Brown, has told me many times that Charles Duncan was completely qualified to be the Secretary of Defense or for any other job including, he has told me, the President of the United States. [Laughter] I'm not sure which job Harold Brown placed on top. [Laughter]
But I am grateful to Charles Duncan, who is here this afternoon to be sworn in to this important position.
And now, Judge Patricia Wald will administer the oath of office to Charles Duncan as the Secretary of Energy for the United States of America. I'm very proud to participate in this ceremony.

Thank you very much.
[At this point, United States Circuit Judge Patricia M. Wald administered the oath of office.]
SECRETARY DUNCAN. Mr. President, Judge Wald, distinguished guests, and ladies and gentlemen:
Thank you, Mr. President, for those very kind remarks, and I want to thank all of you for having joined my family and me on this most significant day in my life.
As I look around the room, I see so many people that I know so well that it's impossible to make the personal comments that I'd like to, but I'd be very remiss if I didn't say to my former colleagues in the Department of Defense, so many of whom are here, that the last 2 1/2 years have been the most interesting that I've spent. The Nation is indeed fortunate to have so many capable and dedicated men and women, both military and civilian, managing our national defense. And I say to you, Harold Brown, my mentor and my friend, that my relationship with you and the personal pleasure of working with you has exceeded my greatest expectations.
And I would also be remiss if I didn't say to the many people here from the Department of Energy that I look forward to working with you and all of your excellent associates. I'm especially pleased to see Jim Schlesinger here. The President has articulated very well the American attitude towards Jim Schlesinger. Jim has done an outstanding job during a very difficult period. He has had to organize a complex new department while simultaneously attacking one of the most difficult problems facing our Nation. We're all indebted to Secretary Schlesinger.
There are also many of my personal friends here, and many of these people have traveled a long way. My family and I are most appreciative to all of you for being here.
Mr. President, I'm deeply honored to have been selected by you to be your Secretary of Energy. This is a terribly important responsibility, and I accept it with humility. The problems are enormous. We must reduce our dependence on imported oil. We must move forward aggressively on programs of conservation and energy efficiency. We must utilize the genius of American technology to make use of the Sun and other renewable resources, and we must and can find environmentally sound ways to utilize our tremendous domestic energy resources.
In trying to do these things, Mr. President, and implementing your energy policy, I plan to maintain an active and an open dialog with all elements of American society that have an interest in energy matters, with public interest groups, consumer groups, environmental groups, labor groups, industry and business groups, all interested publics.
This is an effort that cannot be accomplished by the Secretary of Energy alone or by any single department of government. This is an effort that requires the closest possible cooperation within your total Administration, with the Congress and, most importantly, it requires the continuing cooperation and support of the American people.
The energy problems directly impact all Americans. They affect the very fabric of our economic structure. The successful management and resolution of these problems requires the involvement of individual Americans making millions of individual decisions, to understand the importance of conservation, the importance of energy efficiency, and the importance of developing alternative energy sources.
The problems and the responsibilities are huge, but I want you to know, Mr. President, that I approach my assignment with a sense of optimism, dedication of purpose, enthusiasm, and with a commitment to do my very best. I'm convinced that we can find the right balance in our answers to these problems to assure all Americans a safe and secure energy future.
And lastly, Mr. President, I thank you for giving me this opportunity to serve my country. Thank you very much.
THE PRESIDENT. And now since we've had the thermostat turned so low for this ceremony, we can turn it back up. [Laughter]
All of you are welcome to come over to the reception, where you can personally shake hands with Charles and Anne and his family.
Charles, if you don't mind, you might follow me through the door so that you can stand in place so that all of you can express your congratulations and your pledge of support to him.

Thank you very much.
Note: The President spoke at 3:39 p.m. in the East Room at the White House.
Jimmy Carter, Department of Energy Remarks at the Swearing In of Charles W. Duncan, Jr., as Secretary. Online by Gerhard Peters and John T. Woolley, The American Presidency Project https://www.presidency.ucsb.edu/node/249240