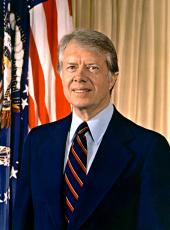 Department of Commerce Remarks at the Swearing In of Philip M. Klutznick as Secretary and Luther H. Hodges, Jr., as Deputy Secretary.
THE PRESIDENT. I don't believe anyone is in this room who doesn't recognize the strength of our Nation in every possible measurement and also recognize that human freedom is the root of our strength. Since the original days of our country's foundation, innovation, competence, cooperation, competition have been the motivating forces which have let human expression be realized in social and economic and political advancement.
Obviously, a free political system is important, but a free and competitive economic structure is also an integral part of our society and also equally important. Our free enterprise system works. In its multitude of facets, it comprises a mechanism by which we can have a better life than the one we inherited from our parents, and we can leave the prospects for realization of a better life for our children and our grandchildren.
Our Commerce Department is the epitome of Government interrelationship with the free enterprise system. It's been designed carefully not to interfere, but to cooperate with the free enterprise system of our country, not to take advantage of other aspects of society, but to strengthen other elements of America and let other elements' strength be realized.
It's important to realize that we are changing very rapidly. I believe that there is a general consensus among American leaders that the Federal Government role should be minimal in its impact upon human life and business life of our Nation; designed to sustain, to encourage the elements of freedom, not to interfere with those vital aspects of innovation and human right to make one's own decision.
We've moved to minimize Government regulation, to simplify Government procedures, to increase consultation with the private sector of our Nation, to deal with deprivation and discrimination through the private business system, to get sound advice and counsel and constructive criticism from the leaders of our business community. As we've done these kinds of things, I believe that in the last 3 years the Commerce Department has been greatly strengthened. And those of you who've studied the organizational charts of our Federal Government know that the breadth of responsibilities for a Secretary of Commerce is indeed very wide.
We've made some progress. We still have a long way to go in equity of opportunity and in the mutual sharing of the benefits of our great country.
I'm very proud this afternoon to participate in the swearing-in ceremony of two fine men, who will be leading a restructured and strengthened Department of Commerce.
Phil Klutznick has a distinguished record of public service well known to many of you. He has served our Nation under six different Presidents, a man who's still young in every measurement of human life, still innovative, still .dynamic, still aggressive, still filled with the wonder of life, still determined to stretch his mind and his heart to encompass new friends, new ideas, new knowledge of God's world.
He's been well known for his own :business accomplishments. He's also been especially well known for sharing those accomplishments and his experience and his abilities for the benefit of others. Benevolence, unselfishness, altruism, is an integral part of his life. Not only in business and commerce and government but also in his deep religious conviction has he been able to exemplify these admirable characteristics.
He knows business from top to bottom, or I should say bottom to top. He was born in a room above his family's store. He now lives in a penthouse— [laughter] -above the headquarters for a giant business complex. And I think we should be careful about making fun of one's dwelling— [laughter] —because I have no apologies to make for the quality of my own quarters here. [Laughter]
But we are indeed grateful that Phil Klutznick would accept my request to serve as the Secretary of Commerce. It's a sacrifice on his part, but it's a sacrifice typical of him and a sacrifice from which every American will benefit.
And now we will have Abner Mikva, a distinguished judge in the Circuit Court of Appeals, administer the oath of office to Phil Klutznick, following which Phil will say a few words to the group.
[At this point, Judge Mikva administered the oath of office.]
SECRETARY KLUTZNICK. Thank you very much. Mr. President, I hope these people feel the same after I have issued a few orders.
Mr. President, I want to thank you for the many nice and extravagant things you have said about me and the height to which I have risen, to the 72d floor of the Water Tower. I want to thank you for the confidence that you've imposed in me.
I am reminded, and in a sense your life reminds me, of a saying from among the sages that man is born anew each day, and except for the timespan I feel that I get reborn each day since I came to Washington.
There's another observation that you've made that I must translate into words, I believe, of the essayist Emerson, when he said that you can have eternal youth or repose. You can't have them both. Now, since I've been in Washington, it's quite clear I will not have repose. So, I am grateful to you, sir, that I have eternal youth. [Laughter]
I should like to make, if you will forgive me, Mr. President, a couple of observations that are not altogether in keeping with the injunction that I've heard, that you must not praise or utter all of the praise of a man in his presence. But since I've been here unofficially, I've had the privilege of living through two critical situations, and I hope they end soon, under your leadership. And I believe it's time that some of us repeat and repeat again that a President of the United States who says publicly and has said privately that to him, among the 50 hostages that are in Iran, the life and good health of the last is as important as the first and who recognizes, in his foreign policy and in his leadership of this country, the sanctity of life deserves not only the applause of the Nation but deserves to be honored by those of us who work under his leadership.
Secondly, Mr. President, I know I'm supposed to speak briefly, but I get very few opportunities to speak when you're around. [Laughter]
Some of us have had a lack of repose the last few days. The decisions that have been made under your leadership are painful and excruciating to a man of peace, and yet you've elected to use every arm of peace in what is one of the greatest challenges to our country since World War II. The firmness of your position, your selection of the options, I am sure, will make my children and grandchildren, who are here, proud of the pages of history that will accord you what you're entitled to—the accolade of leadership that is not bellicose, that is firm, that understands its way, and that seeks to preserve the important, but fragile fabric of peace in the world.
I hope, Mr. President, that we in the Department of Commerce will be able to demonstrate our ability in the very treacherous economic waters through which we pass with the same sense of devotion to duty, the same commitment to achievement, the same quiet determination that will bring to reality your enunciated doctrine that government and the private sector owe it to each other to work in commonality and to the best of our respective abilities to correct the creaks and the pains of our economy which inevitably appear now and then.
I thank you, sir. I'm grateful for this opportunity.
THE PRESIDENT. I pointed out that Secretary Klutznick was experienced, competent, dedicated, benevolent, altruistic. I forgot to mention that he's also prolific. [Laughter]
And I would like to ask all of Phil's family to stand. Would everybody in here who's related to Phil stand, please?
Well, he's got a great family, and I think this bodes well for our country, because the stability and the interrelationship among family members is one of the best experiences and teachers of a person who serves in public office. It also provides a proper degree of modesty when one has to deal with family problems as well as those in government. [Laughter]
Speaking of family, our Deputy Secretary of Commerce is a son of a former distinguished Secretary of Commerce, Luther Hodges. Luther is a young man whose record of public service and whose insight into the banking and business community of our Nation is indeed a great asset, which has been extremely helpful to me, the former Secretary of Commerce, Juanita Kreps, and to our entire country.
Luther is a progressive business leader in the finest sense of the word. He's from North Carolina, as you know. When I was considering asking Luther to come to Washington and work with me, I called several people in the Southeast to ask them if he would be a good person to bring. Several of the ones whom I called were his banking competitors, and they said, "Mr. President, the best thing you could do for us"— [laughter] —"is to get Luther Hodges out of the banking business in the Southeast."
He is an intense, but quiet competitor, successful in every sense of the word. And his success in the banking business is because he understands people, and he understands the needs of our country, and he knows how to match what can be accomplished by leadership with the needs that he has identified through his own personal sensitivity.
He's an expert on productivity; on enhancing employment; on the development of communities, both rural and urban communities; on manpower training; on regional development; on the proper interrelationship under our system of federalism, so that there can be a sharing of responsibility, not only between the free enterprise system and government but between or among local, State, and Federal Government leaders with private citizens of our country.
He's extremely interested in alleviating the remaining vestiges of racial discrimination, and he has worked in a yeoman's way to provide opportunities for those who, for too long in our country, have suffered because of the lack of equal opportunity in the greatest nation on Earth.
I'm very grateful for Luther and for Phil. They will make a good team to serve you and to work with me. As a matter of fact, all of us in this room and all Americans are partners in making our country even greater than it is. We do face difficult challenges; we can overcome them. We face difficult problems; we can solve them. We face difficult questions, and we can answer them. And I'm very glad that we have Secretary of Commerce Klutznick and Deputy Secretary Luther Hodges, Jr., to work with me.
And now Justice Branch, the Chief Justice of the Supreme Court of North Carolina, will administer the oath of office to Luther Hodges, Jr., the first Deputy Secretary of Commerce in our Nation's history.
[At this point, Chief Justice Branch administered the oath of office.]
DEPUTY SECRETARY HODGES. Thank you. Mr. President, Mr. Vice President, it's an honor to serve you, and I thank you, Mr. President, for your very kind words. Mr. Klutznick, it's a privilege to serve with you and our very able and professional associates at the Department of Commerce, and I look forward to a very long and lasting relationship.
Ladies and gentlemen, thank you for being here. Governor Harriman, I must say that Secretary Klutznick enjoys your portrait in his office. And I have the portrait of another Mr. Hod§es in my office. And it is truly inspiring and motivating and it's an honor to have you here, sir, along with so many distinguished people and so many very close and wonderful friends. I thank you.
The Department of Commerce has a great deal to accomplish and to contribute. I happen to repeatedly have said that the issues of the day are economic, and if that is the case, then the Department of Commerce should indeed be the focal point for Government programs to strengthen our economy. Especially in the area of international trade, Mr. President, which you had the foresight to address in your administration, the Department of Commerce has been reorganized and enhanced, and we have much to do.
But I can't say that we should be talking about exporting and international trade if we don't also or first rebuild our economy domestically, make our economy more productive and more competitive. We cannot export if we are not so competitive, and that's what the Economic Development Administration or the National Oceanic and Atmospheric Administration or our Department of Science and Technology, in its efforts in industrial innovation, our minority business efforts, the Maritime Administration, telecommunications, and on and on. But it does little good to make all those domestic efforts if we do not realize, as a people, the complexity and the competitiveness and the interdependency of the world economy, and there's a new international dimension to our lives and to our future.
Mr. President, scattered among Mr. Klutznick's children—family, I should say—are a few folks from North Carolina. [Laughter] There may even be a Republican or two. But I confess that by and large they're good folks— [laughter] —and I'm glad to see them. And they are for you and are here because they are interested in effective government, and they support you, along with the majority of Americans, on the premise that the best politics are moderate and intelligent. Many, indeed, heard me on the eve of May 30, 1978, when I happen to have said that there was little political appeal in being moderate and intelligent in approaching very complex issues, but I happen to believe, as you do, that that's the only way.
All of us here recognize the challenges that you face and the truly great job that you're doing, and we are grateful. And I say that not because of the events of the last few weeks, of the last few months, and the trying times that you have had most recently, but really for the 3 years of your administration during which, I think, the business community has benefited more than under any other administration with which I am familiar.
I think it is the Department of Commerce's responsibility to communicate to the American people the real facts about our economy and about what you have done for the business community. There are a lot of good people, not just from Illinois and North Carolina, who know that.
I'm proud to be helping you and proud to be serving you and working with Mr. Klutznick. And I thank you and all of you wonderful people for being here.

Thank you.
THE PRESIDENT. I'm going to ask Luther and Phil to go with me, and they'll be standing outside the door. And I know that you will all want to come by and shake hands and either congratulate them or offer your condolences to them as they assume these major responsibilities. [Laughter] They are two fine men, and I'm very grateful to them for being willing to serve.

Thank you very much, everyone.
Note: The President spoke at 2:40 p.m. in the East Room at the White House.
Jimmy Carter, Department of Commerce Remarks at the Swearing In of Philip M. Klutznick as Secretary and Luther H. Hodges, Jr., as Deputy Secretary. Online by Gerhard Peters and John T. Woolley, The American Presidency Project https://www.presidency.ucsb.edu/node/250511