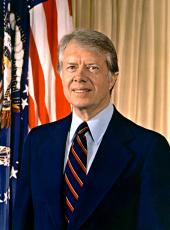 Department of Commerce Nomination of Jordan J. Baruch To Be an Assistant Secretary.
The President today announced that he will nominate Jordan J. Baruch, of Hanover, N.H., to be Assistant Secretary of Commerce (Science and Technology). Baruch is a professor of business administration at the Amos Tuck School of Business Administration, Dartmouth University, and of engineering at the Thayer School of Engineering at Dartmouth.
He was born in New York City on August 21, 1923. He received a B.S. and an S.M. in electrical engineering in 1918 and an Sc.D. in electrical instrumentation in 1950 from Massachusetts Institute of Technology.
Baruch was an assistant professor at M.I.T. from 1950 to 1955, and a lecturer there from 1955 to 1971. He has also served as a director of Bolt, Beranek and Newman, Inc., since 1953 and as a consultant since 1966. From 1966 to 1968, he was also general manager of the Medinet department of General Electric.
Baruch was a lecturer in business administration at Harvard University Graduate School of Business Administration from 1970 until 1974, when he joined the faculties of the graduate schools of business administration and engineering at Dartmouth.
From 1968 to 1970, Baruch was president of Educom, a consortium of 100 colleges and universities. He was a consulting member of the Committee on Technology in the Service Industries, Federal Council on Science and Technology, from 1970 to 1973, and a member of the ad hoc planning panel of the National Center for Health Care Delivery Systems of the Department of Health, Education, and Welfare in 1971.
Since 1971, he has been a member of the Experimental Technology Incentives Program and the Institute for Comparative Science and Technology of the National Academy of Sciences Advisory and Evaluation Panel, National Bureau of Standards. He was chairman of the latter institute from 1974 to 1976. Baruch was a member of the Science Information Council of the National Science Foundation from 1971 to 1974.
Baruch is a fellow of the American Academy of Arts and Sciences, the American Association for the Advancement of Science, and the Institute of Electronic and Electrical Engineers. In 1976 he was chairman of the Committee on Technology and Health Care of the National Research Council/Institute of Medicine.
Jimmy Carter, Department of Commerce Nomination of Jordan J. Baruch To Be an Assistant Secretary. Online by Gerhard Peters and John T. Woolley, The American Presidency Project https://www.presidency.ucsb.edu/node/243631