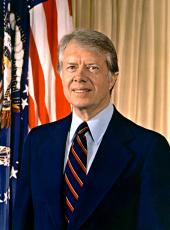 Department of Agriculture Nomination of James H. Williams To Be Deputy Secretary.
The President today announced that he will nominate James H. Williams, of Ocala, Fla., to be Deputy Secretary of Agriculture.
Williams was Lieutenant Governor of Florida until the expiration of his term, earlier this month.
Williams was born June 17, 1926, in Ocala, Fla. He served in the U.S. Army Air Force in 1944 and 1945. From 1943 to 1949, he owned and operated a cattle ranch of approximately 7,000 acres. In 1947 and 1948, he taught veterans on-the-farm training, and from 1948 to 1950, he owned and operated a sawmill and logging operation. From 1950 to 1962, he was joint owner and vice president of Dixie Lime and Stone Co.
In 1962 Williams entered Central Florida Junior College, and in 1966 he received a B.A. in political science from the University of Florida.
Williams was elected to the Florida Senate in 1968, where he served until 1974. He was chairman of the governmental operations committee and received several awards for effectiveness as a legislator.
In 1975 Williams became Lieutenant Governor, elected with Governor Reubin Askew. In this office, he served as chairman of the Governor's Commission on Criminal Justice, Standards, and Goals, and as chairman of the Governor's Highway Safety Commission. Williams also served as secretary of the Florida Department of Administration from 1975 to 1977.
Jimmy Carter, Department of Agriculture Nomination of James H. Williams To Be Deputy Secretary. Online by Gerhard Peters and John T. Woolley, The American Presidency Project https://www.presidency.ucsb.edu/node/249779