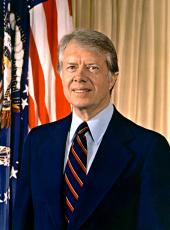 Democratic National Committee Telegram to Members on Recommendation of John C. White To Be Chairman.
I want to inform you, prior to official release to the press, of my recommendation of John White of Texas, to you as Chairman of the DNC. White, currently the Deputy Secretary of Agriculture has a long and outstanding public and party record, serving as Commissioner of Agriculture of Texas for 26 years, and serving in a leadership capacity in every Democratic Presidential campaign in Texas from 1952 to 1976. He served for two years as a member of the National Democratic Charter Commission. Through thick and thin, John White has .been a loyal and dedicated Democrat--a talented organizer, an articulate spokesman, a tough and fair leader. He has the attributes that will make him an outstanding Chairman of our Party. He has my fullest support, and I hope he will have yours as well.
I am sending you a follow up letter to this telegram, to detail more specifically the reasons I am recommending John White to you. Chairman Curtis will notify you shortly about the time, date and place of the special meeting of the DNC that will handle the election.
I would like to thank Ken Curtis for all he has done for our party during his term as Chairman.
Best wishes for a healthy and happy and successful 1978.
JIMMY CARTER
Note: The text of the telegram was released on December 28.
On the same day, the President met at the White House with Chairman Curtis and Deputy Secretary White.
Jimmy Carter, Democratic National Committee Telegram to Members on Recommendation of John C. White To Be Chairman. Online by Gerhard Peters and John T. Woolley, The American Presidency Project https://www.presidency.ucsb.edu/node/242757