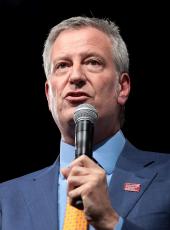 De Blasio Campaign Press Release - All Women and Men Should Be Paid Equal: Mayor de Blasio Announces Plan to Provide Equal Pay Opportunities for All Athletes and Working People
Mayor Bill de Blasio today announced that as President, one of his first acts will be calling on the United States Congress to amend the Amateur Sports Act, to guarantee equity in resources and pay for women's and men's national sports teams chartered under the Act, including the U.S. Soccer Federation. These changes will be modeled on Title IX requirements that changed the landscape of college athletics in this country and must serve as a model of national sports teams as well.
Under his administration should Congress fails to act, he will pursue executive action to guarantee equal treatment using these organization's statuses as federally chartered and tax exempt.
Additionally, Mayor de Blasio will ask Congress to pass and sign, the Paycheck Fairness Act, which would require employers to report annual compensation data, to justify differences in pay, and ban asking prospective employees about salary history to ensure that pay equity is a mandated right in all workplaces across America.
"Champions of the world, deserve to be paid their fair share," said Mayor Bill de Blasio. "The U.S. Women's National Team team shouldn't have to fight for equality in this day and age and its outrageous that they still have to fight for equal compensation. Title IX was simply the beginning and under my administration, I will do everything in my power to make sure working women and young girls know they are on the same playing field."
The Paycheck Fairness Act would prohibit employers from using salary history to ensure that salaries are not based on prior pay disparities that can follow workers from job to job. It would protect against retaliation for discussing pay with colleagues, including stopping employers from being able to fire employees for sharing information and ensure greater transparency, while helping identify salary disparities.
This Act would make sure hard-working people in this country, women and men alike, would achieve equal pay for equal work, by requiring employers to prove that any pay disparities that exist between women and men are a business necessity and job-related. It would equalize discrimination claims based on gender, race, and ethnicity, so plaintiffs who file claims under the Equal Pay Act have the same robust remedies as those who make claims under other laws. Lastly, it would support employers and employees to achieve fair pay practices, including providing technical assistance to employers, requiring wage data collection, and offering salary negotiation training programs to give women the tools to advocate for higher wages.
Bill de Blasio, De Blasio Campaign Press Release - All Women and Men Should Be Paid Equal: Mayor de Blasio Announces Plan to Provide Equal Pay Opportunities for All Athletes and Working People Online by Gerhard Peters and John T. Woolley, The American Presidency Project https://www.presidency.ucsb.edu/node/365085