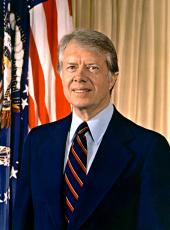 Cuban Refugees Remarks to Reporters Announcing Administration Policy Toward the Refugees
THE PRESIDENT. I'd like to make a statement to you and to the Nation about the extremely critical problem with the Cuban citizens who are escaping from their country and coming to our shores in a very haphazard and dangerous way.
Tens of thousands of Cubans are fleeing the repression of the Castro regime under chaotic and perilous conditions. Castro himself has refused to permit them a safe and orderly passage to the United States and to other countries who are also willing to receive them. Repeated international efforts to resolve this crisis have been rejected or ignored by the Cuban Government. At least seven people have died on the high seas. The responsibility for those deaths and the threat of further loss of life rests on the shoulders of Fidel Castro, who has so far refused to cooperate with us, with those escaping his regime, or with other countries in establishing a legal and orderly procedure for dealing with this Cuban problem.
In keeping with the laws and traditions of our own country, the United States has provided a safe haven for many of these people who have arrived on our shores. Since the beginning of this crisis we have been operating under three basic principles: first, to treat the escaping Cubans with decency, fairness, and humanity; second, to observe and to enforce the existing United States law; and third, to work with other countries and with international organizations to develop an orderly and legal solution to this very painful human dilemma. That is still our fundamental approach.
But now we must take additional steps to end Cuba's inhumane actions and to bring safety and order to a process that continues to threaten lives. Therefore we will implement a five-point program to permit safe and orderly passage from Cuba for those people who sought freedom in the U.S. Interest Section in Havana, first of all; for political prisoners who have been held by Castro for many years; for those who sought a haven of freedom in the Peruvian Embassy, some of whom are still being held there; and for close family members of Cuban Americans who live in this country and who have permanent resident status. Those four categories will be given priority in their authorization to come to our country.
First, we are ready to start an airlift and a sealift for these screened and qualified people to come to our country, and for no other escapees from Cuba. We will provide this airlift and sealift to our country and to other countries as well, just as soon as the Cubans accept this offer. The U.S. Government will have aircraft ready and will immediately charter ships—one of which will be standing by in Key West—to bring the first group of Cubans, after they are screened, to our country. These ships and the Key West planes will be ready to go to Cuba to receive properly screened Cubans for entry to the United States and to other countries, to help in their resettlement.
To ensure legality and order, all people will have to be screened before departure from Cuba. We will work with the Congress, the Cuban American community, interested nations, and the Cuban Government to determine the total number of people that we will receive, both on a monthly basis and during the next 12 months.
Second, tomorrow we will open a family registration center in Miami, and later perhaps in other communities, to begin receiving the names of people who are eligible for immigration to our Nation because they are close members of Cuban American families who have permanent residence here.
Third, the Coast Guard is now communicating with all boats who are en route to Cuba and those in Mariel Harbor in Cuba, to urge them to return to the United States without accepting additional passengers. No new trips to Cuba by these unauthorized boats should be started. Those who comply with this request or command will have nothing to fear from the law, but we will ensure that the law is obeyed. Persons who violate this requirement and who violate U.S. immigration custom laws by traveling to Cuba to pick up additional passengers will be subject to civil fines and to criminal prosecution. Furthermore, boats used to bring people unlawfully to this country will be seized. I have directed the various law enforcement agencies to take additional steps as necessary to assure that this policy and the law are obeyed.
Fourth, in an unprecedented .and irresponsible act, Castro has taken hardened criminals out of prison and forced some of the boatowners who have gone to Cuba from our country to bring these criminals back to the United States. Thus far over 400 such persons have been detained. I have instructed the Attorney General to commence exclusion proceedings immediately for these criminals and others who represent any danger to our country. We will ask also appropriate international agencies to negotiate their return to Cuba.
These steps are fully consistent with the consensus which was reached by 22 nations and 7 international organizations in the San Jose Conference on May 8 this last week. In addition, the Secretary of State will continue consultation with other nations to determine additional steps that the international community can take to resolve this problem. We will seek the help of the United Nations, the Organization of American States, and other international organizations as well.
The Cuban American community has, of course, contributed much to Miami, to Florida, and to our own country. I respect the deep desire to reunite divided families. In the interest of that great and valiant ethnic community and in the interest of our country, we will continue to work closely with the Cuban American community to bring about a safe and orderly resolution of this crisis.
I continue to be greatly concerned about the treatment of Haitians who have also come to this country recently on small boats. I've instructed all appropriate Federal agencies to treat the Haitians now here in the same, exact, humane manner as we treat Cubans and others who seek asylum in this country. Our laws never contemplated and do not adequately provide for people coming to our shores directly for asylum the way the Cubans and the Haitians have done recently. I will work closely with the Congress to formulate a long-term solution to this problem and to determine the legal status of the boat people once this current emergency is under control.
Now the Attorney General and Stu Eizenstat, Jack Watson and others will be available to answer your specific questions about this new policy, an approach which I think will be successful in resolving this dilemma.
REPORTER. Sir, will you take a question? Do you think—
THE PRESIDENT. Sarah [Sarah McClendon, McClendon News Service], I'll take one question.
Q. this will be a damaging issue in the campaign?
THE PRESIDENT. I don't know about how it will affect the campaign. We've had this as a very serious problem now for several weeks. We've tried to deal with it in accordance with our laws, with custom, with traditions, and of course in a humane fashion, and also have tried to work, both with Castro, unsuccessfully, and with other nations and international organizations. We've done the best we could.
This is a much firmer and more consistent approach, and in my judgment, after advising with all of my Cabinet advisers involved and with the international organizations as well and with the Congress, I believe this will resolve this problem in a legal, orderly, safe, humane, and proper fashion.
Q. Do you think that Castro will go along with it?
THE PRESIDENT. I don't have that assurance.
Q. But if he doesn't go along with it it's stopped, period?
THE PRESIDENT. We'll carry out our part of the policy as I described it.
Note: The President spoke at 4:35 p.m. in the Briefing Room at the White House.
Following the President's remarks, Attorney General Benjamin R. Civiletti, Stuart E. Eizenstat, Assistant to the President for Domestic Affairs and Policy, and Jack H. Watson, Jr., Assistant to the President for Intergovernmental Affairs, held a news conference on the Cuban refugee policy.
Jimmy Carter, Cuban Refugees Remarks to Reporters Announcing Administration Policy Toward the Refugees Online by Gerhard Peters and John T. Woolley, The American Presidency Project https://www.presidency.ucsb.edu/node/250325