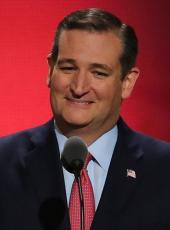 Cruz Campaign Press Release - What They're Saying: Rubio's No-Show at Conservative Convention
Rubio Bails On 5,000 Conservatives in Greenville Only 34 Hours Before Voting Begins
HOUSTON, Texas — Last night Sen. Marco Rubio was a no show at his scheduled appearance at the Conservative Review's Conservative Convention. Highlights of media coverage are below:
Hot Air: Rubio bails on Conservative Review convention.
Look, I get that nobody likes to face a potentially critical audience when they could be talking to supporters and cheerleaders instead, but running for President is hard. It's supposed to be hard. And if you do manage to land the job, you're going to be leading a lot of people who may frequently disagree with or even disparage you. Facing down an audience which may initially be favoring one of your opponents and winning some of them over with your message and presentation is is the hallmark of a winner. If Marco Rubio just walked away from a high profile commitment he'd made for an event of this size because he couldn't take the heat, that's probably not the sort of signal you wanted to send 48 hours before the polls close.
Twitchy's recap of the Rubio No-Show
Breitbart: Marco Rubio Cancels Conservative Review Event Appearance Five Minutes Before His Speech
A Conservative Review spokeswoman told Breitbart News that Rubio was scheduled to speak at 8 p.m. and sent former Louisiana Gov. Bobby Jindal, Sen. Tim Scott (R-SC) and Rep. Trey Gowdy (R-SC) to the event as well as several campaign staffers. Gowdy was supposed to introduce him.
Moments before he was set to take the stage, the spokeswoman said, Rubio's team informed the Conservative Review team he would be late. The Conservative Review team offered to adjust the schedule, and do whatever it took to accommodate Rubio so he could speak with the conservatives gathered there. Rubio eventually ended up not showing up at all.
National Review: Levin: Rubio Skipping Convention "Pretty Damn Rude"
"It was pretty damn rude of Rubio, quite frankly," he told reporters after the forum. Rubio's campaign sent Senator Tim Scott and Representative Trey Gowdy, two of Rubio's top surrogates in South Carolina, to the convention to represent him, but Levin said the orgnanizers did not permit them to speak in his place. "This isn't about surrogates speaking. Are they running for President of the United States? This is about the candidate speaking. So my position was that if the conservative convention isn't good enough for Marco Rubio, it isn't good enough for his surrogates."
The decision was consistent with the policy that had imposed on other candidates, said Gaston Mooney, the executive editor of Conservative Review. Jeb Bush had previously asked to send surrogates, he said, and organizers had told him they would not permit surrogates to speak in his place. "This is a conservative convention. And he chose—first he said he was coming, and then he didn't come. So the voters can draw their own conclusions for it," Levin said of Rubio.
The Blaze: "The final admission that Marco Rubio isn't even going to try to compete for the votes of conservatives"
With the absence of Florida Sen. Marco Rubio at a conservative convention Thursday night, the rift between him and Texas Sen. Ted Cruz grew — and conservative radio personality Mark Levin joined in.
The fight, complete with an abundance of lying accusations between the two GOP presidential candidates, has exponentially amplified on the campaign trail with the South Carolina primary just days away. Both candidates, along with Dr. Ben Carson, were scheduled to appear at the Conservative Review convention Thursday evening, but Rubio was a no-show due to scheduling conflicts, a Rubio campaign source told TheBlaze.
Not long after Rubio's absence was announced, Cruz's campaign spokesman called it a "final admission that Marco Rubio isn't even going to try to compete for the votes of conservatives in South Carolina or anywhere else. "
Ted Cruz, Cruz Campaign Press Release - What They're Saying: Rubio's No-Show at Conservative Convention Online by Gerhard Peters and John T. Woolley, The American Presidency Project https://www.presidency.ucsb.edu/node/315300